By Ben Stern, Insights Director
On the 8th of Feb 2023, Black Swan showcased at The Plant-Based Trends & Innovation Conference alongside Mondelez, Graze, Burger King and other pioneer brands in the category.
The event brings together leaders across the industry to discuss plant-based, vegan and sustainability trends.
The Black Swan team were there in-person to display how some of the world's leading innovators in the Food & Beverage category are using predictive, social data to fuel Innovation.
This included a short presentation, in which we demonstrated how our SaaS platform could be used to create a plant-based product concept in just 10 mins.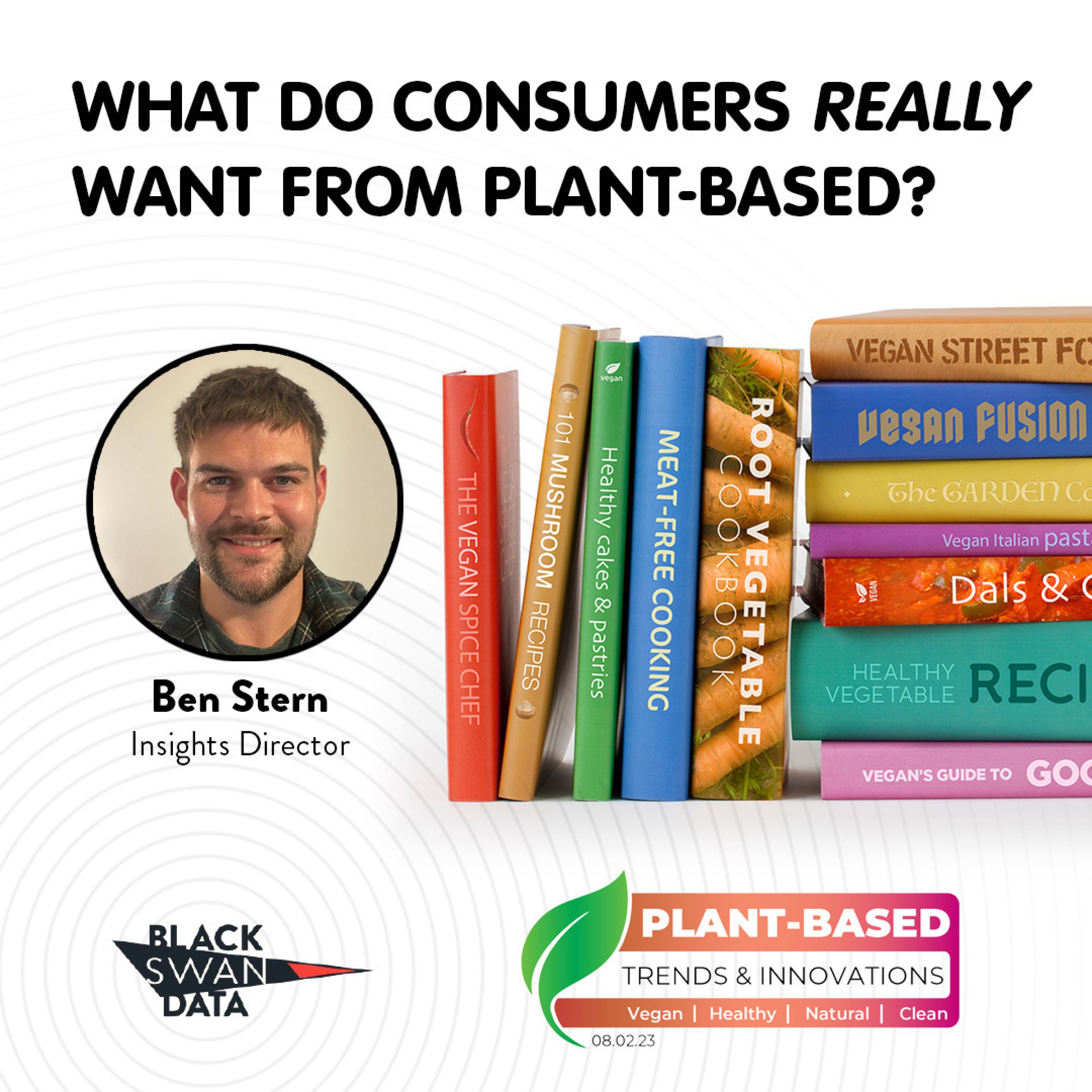 Looking into the future of plant-based meals

Many of the insights on show at the conference were sourced from qualitative sources, such as surveys or focus groups. They offered great visibility on what's happening now in this space.
Our focus was on what's going to happen next.
We harness longitudinal social data, ingested over 2-year periods. Predictive analytics and natural language processing are applied to help us model and predict the future with 89% accuracy.
In short, it gives us and CPGs that use our tech the ability to anticipate how consumer behavior will change.
So we looked into the future of the plant-based meals category... What's changing? Which meals trends are emerging, and which are in decline? And what food products do consumers really want from brands?
Creating a plant-based concept

When creating a new product concept, we start with a consumer need.
Our platform surfaced Convenience as a need-space to prioritize. An area that's ripe for innovation right now.
Because Convenience isn't just about ready meals anymore. In the US, eating and cooking habits are a-changing.
There's been a 110% jump in online grocery sales as more and more people turn to home-cooking. Working patterns are also shifting. The working-from-home trend outlasted the pandemic – people are far less time-poor than they were pre-COVID.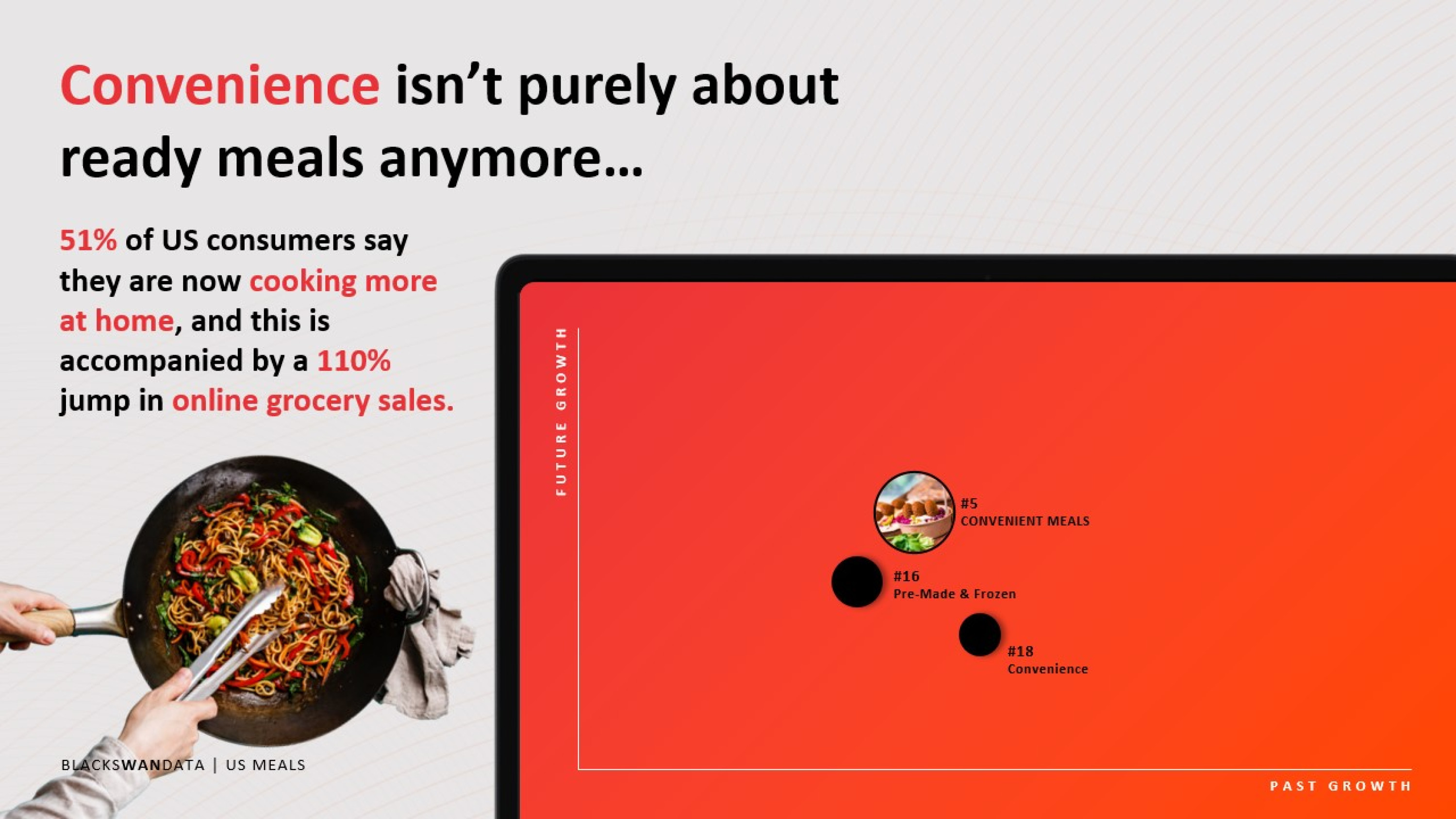 Our platform identified a spike in conversations around authentic, traditionally made meals people can enjoy at home.
What's behind this spike?
The post-pandemic restaurant boom - in which newly liberated consumers spent aggressively on eating out – has ended. Rising prices and concerns over the cost-of-living have provoked consumers to stay away from restaurants and turn to meals they can enjoy at home.
And 'enjoyment' at home is key. While consumers are pre-occupied by cost, they still want to experience the joy and flavor of authentic, traditionally made restaurant-quality food.
Our data revealed a 7% increase in conversations around meal kits. This product format is growing in popularity and provides brands with an innovation opportunity to create a premium meal product that consumers can afford.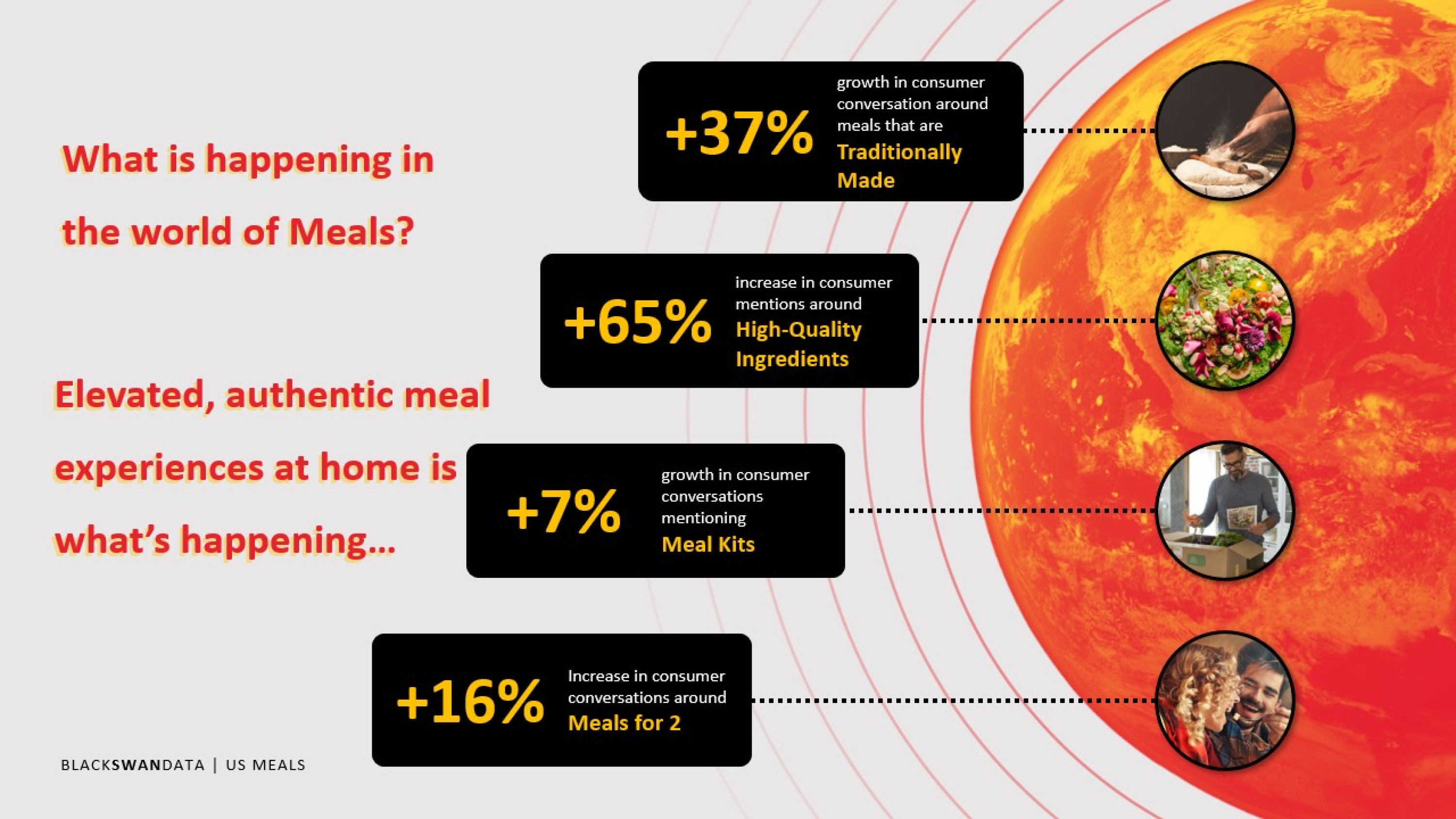 Plant-based meal kits

If we dig into the plant-based meals landscape, it's clear that it's a giant space generating significant online conversation, but it's losing momentum.
Conversations around plant-based foods have dropped by 6% over two years. And chatter related to meat analogues have reduced by 5%.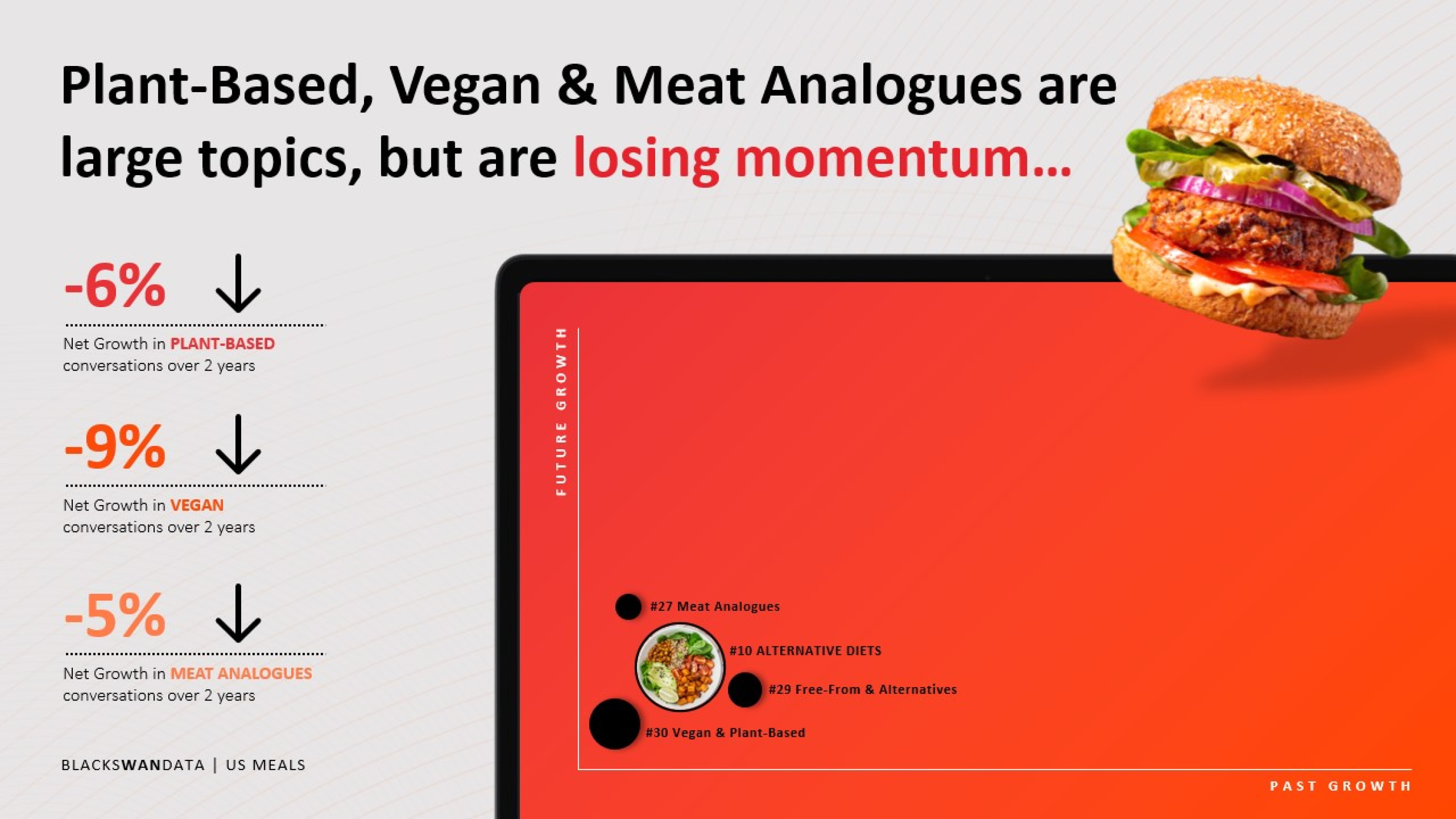 But there are growth spaces. And the humble vegetable is taking center stage. Legumes and other plant-based protein sources are making a comeback.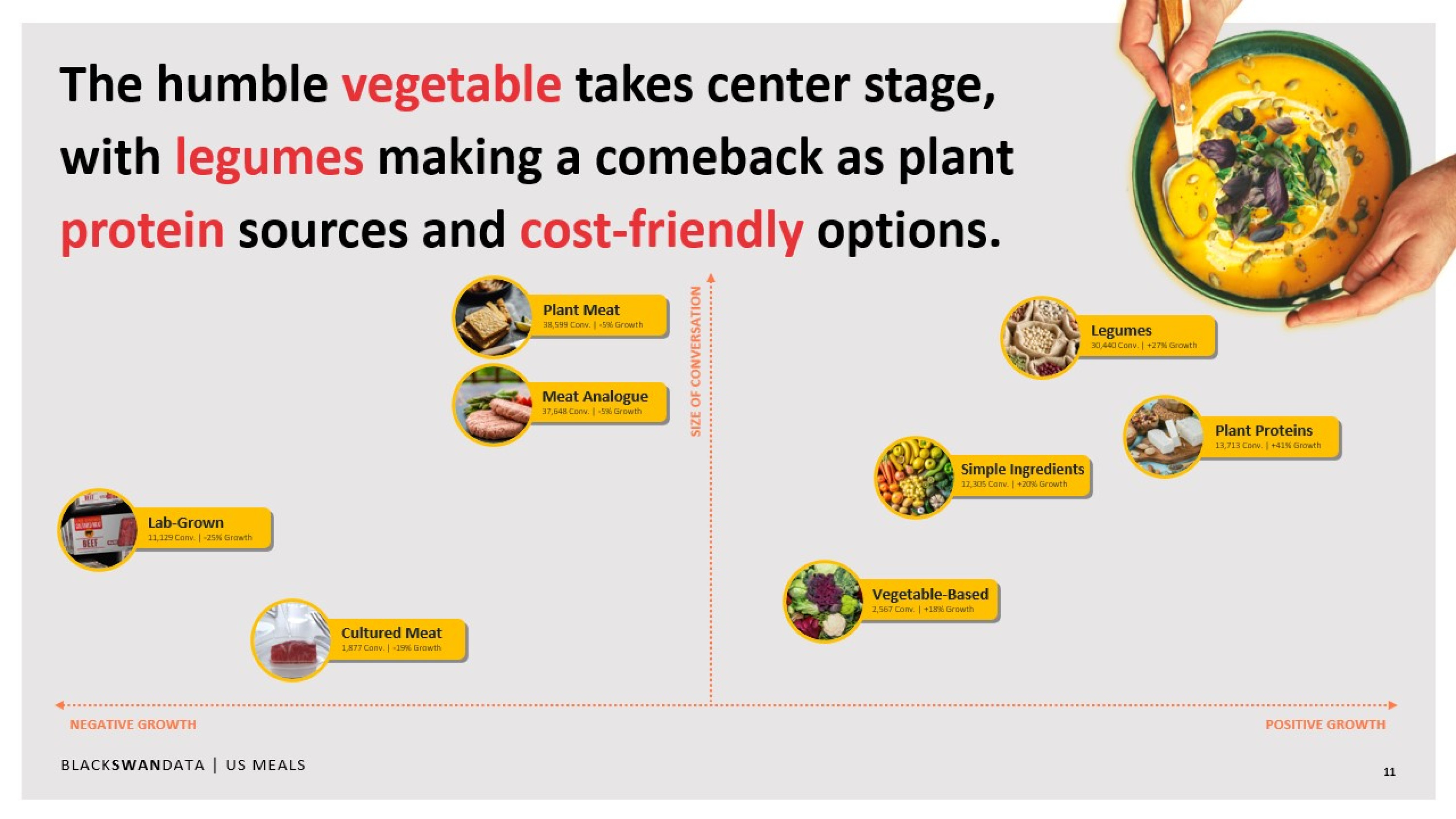 So much so, Vada Pav and Panipurri have surged in the US. And it makes sense. These products have something in common. They are easy and cheap to make, crucial during a cost-of-living crisis.
And they are both from the spiritual home of pure vegetarian cooking in India.
In fact, we're seeing a number of international cuisines trending across the US market. Indian, South East Asian and Mexican cuisines are all experiencing sustained growth.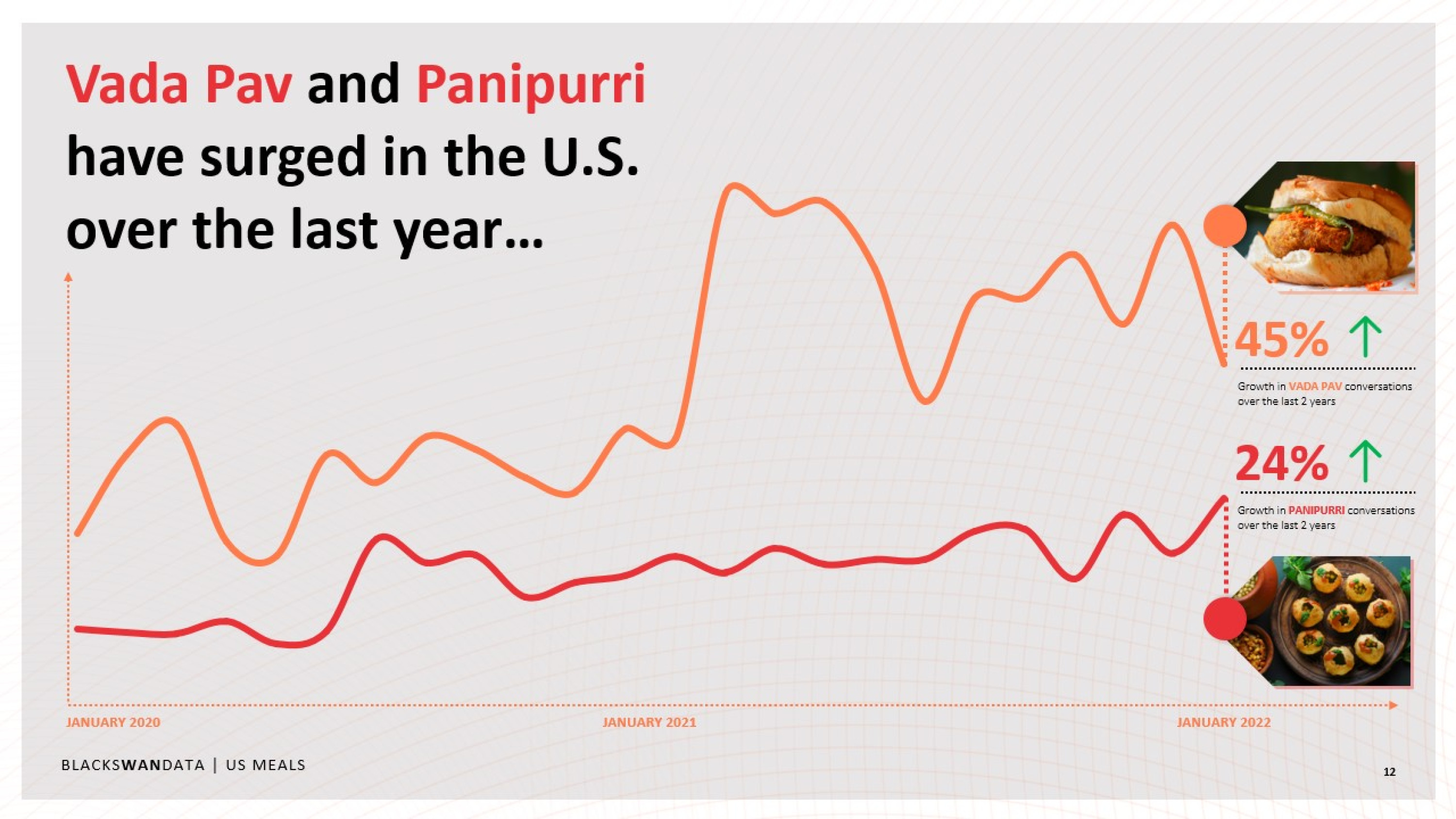 Indian Street Food Banquet

We've combined the meal kit format with the Indian cuisine to create an Indian Street Food Banquet. The messaging will focus on its plant-based and traditional roots.
Our platform has identified a needs-space and helped us create a concept and claims that will resonate with the demands and wants of today's consumers.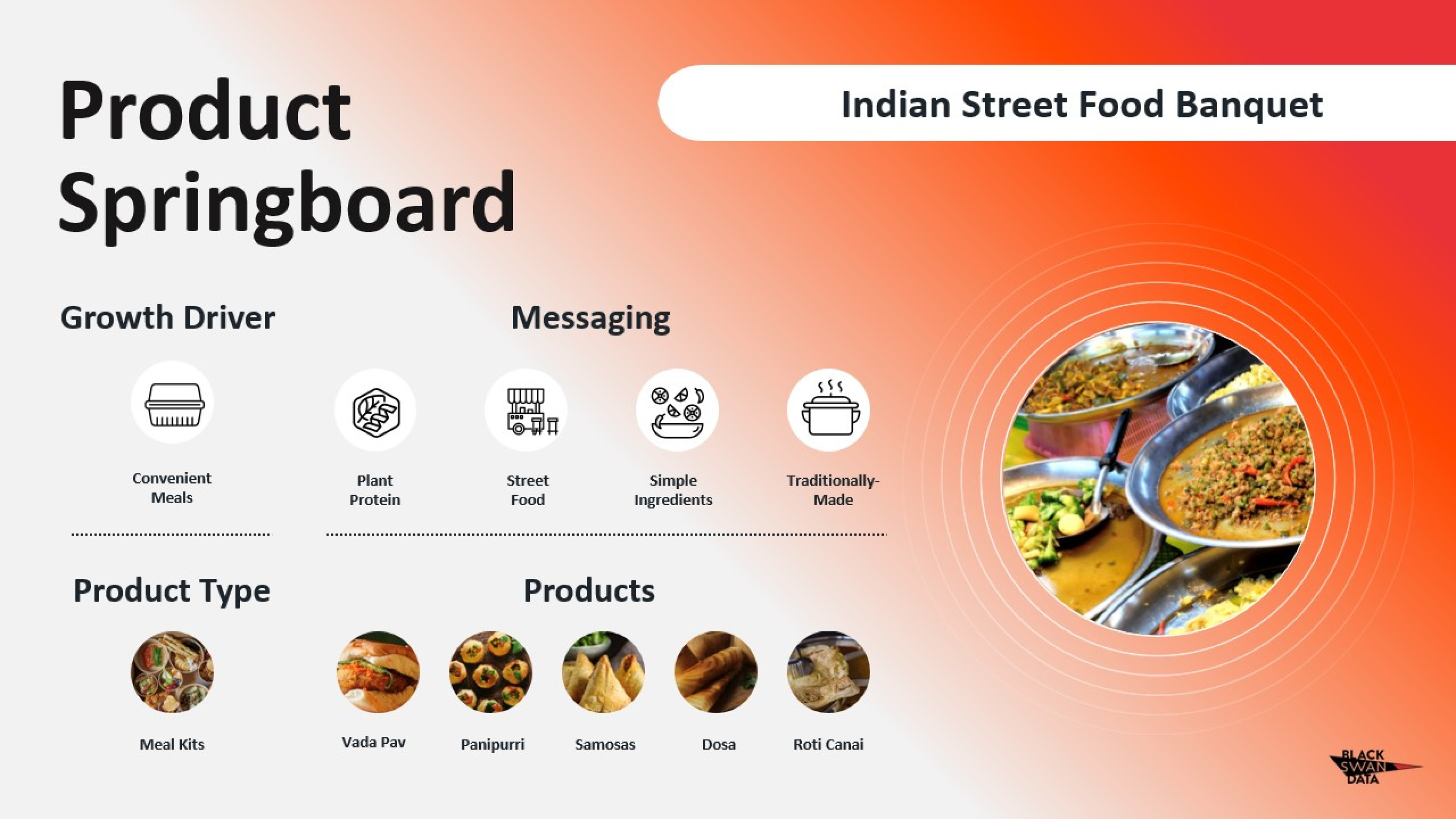 That's a plant-based meal product concept, created in just under 10 mins.
* * *
Want to find out more?

You can download our latest report, 'The Future of Meals', based on 138+ million consumer conversations.
OR
Or you can book a short product demo to discover how your organization can use predictive, social data to fuel faster, simpler Innovation.

BOOK NOW

About Ben

Ben is a specialist at translating unstructured and big data into powerful consumer insights that move brands to action. Prior to Black Swan, Ben spent over 5 years advising clients in Kantar's Analytics practice.