Where are consumers willing to spend (and where are they NOT)?
Following a pandemic, political and economic turmoil, war in Europe, supply chain disruption, an energy crisis, bank failure and global inflation – consumers are on the move.
PwC report that 96% of consumers across the globe are taking cost saving actions in response to the seemingly unending cost-of-living crisis.
Inflation is finally beginning to abate, having peaked in late 2022. But food and drink prices remain high.
The cost of eating and drinking has exploded, forcing people to drastically adjust their spending behavior.
They are eating out less, trading down to cheaper or alternative products and moving away from brands and retailers they accuse of 'greedflation'.
So where are consumers ready to spend? Where are they cutting back? And how can this help you determine where to innovate?
To answer these questions, Black Swan launched a new report into the food and beverages space.
Our Food & Beverages: Price & Value Report explores where consumers are still finding value for money, and where they are NOT.
We've summarized the findings of the report below...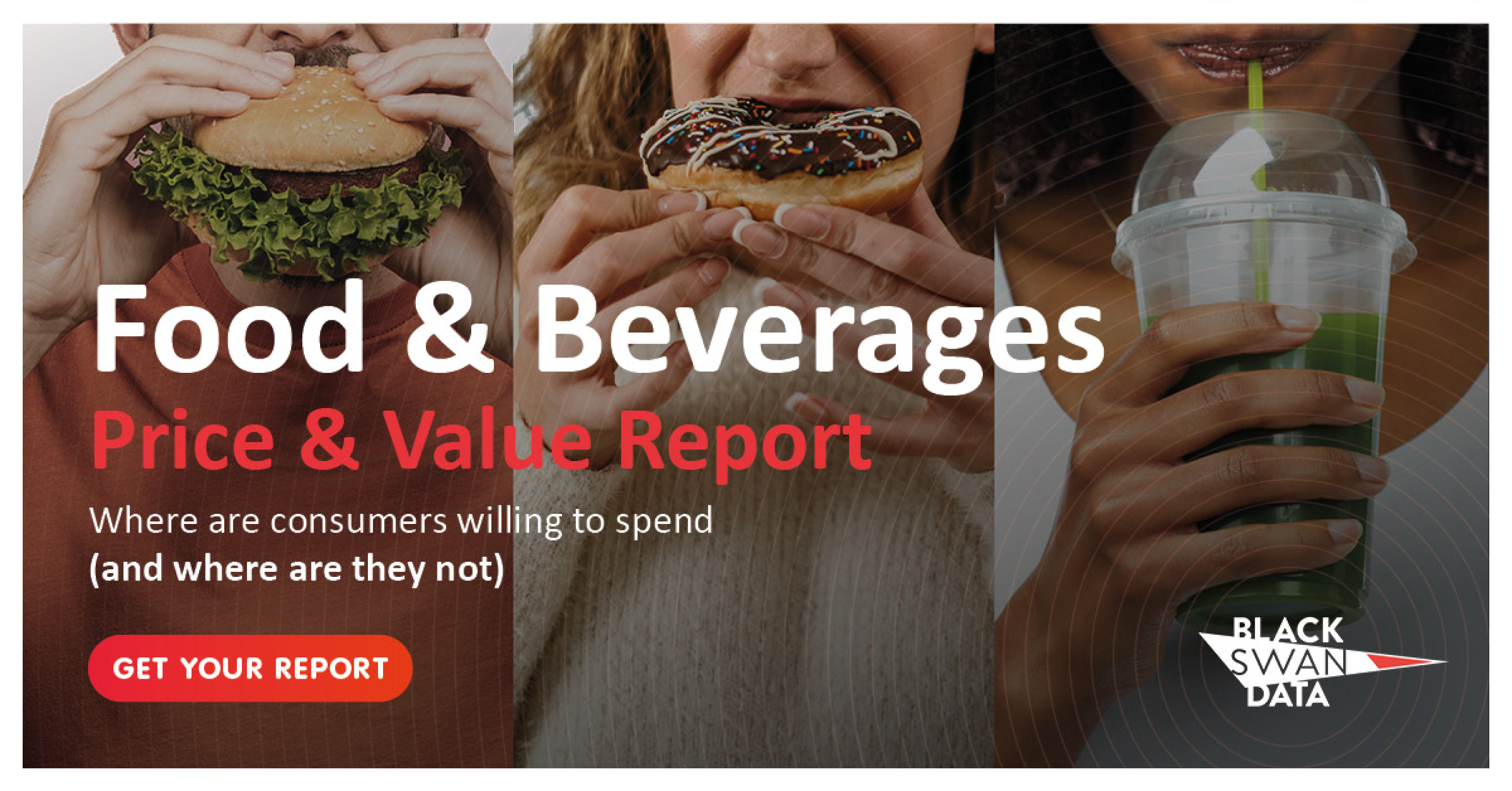 Our approach
Our Insight Consultants analyzed the social data from 41 million+ online conversations in the UK to uncover consumers' price and value perceptions.
They focused on three key categories: Meals, Snacking and Beverages.
The report provides a snapshot of the landscape in each category and examines the macro-movements which are shaping consumer behavior.
We also zoom in on some of the specific products that are winning (and losing) in this inflationary environment.

3 key insights


We are going to unpack just THREE of the key insights from our report.
For more in-depth analysis and further insights into the price and value perception in each category - you can download the full report HERE.



#1 Takeaways vs 'Fakeaways'
In the Meals category, the post-pandemic restaurant boom is over. Deloitte has reported that 62% of people are eating out less, and 29% are cutting back on takeaways.
Instead, consumers are turning to 'fakeaway' meals - cheaper, DIY alternatives that they can prepare at home and still deliver that feeling of occasion and a treat.
They are trading down to save, creating meals like 'Chicken Tikka and Rice', 'Beef and Noodles' and 'Pizza Bowls' from scratch.
Consumers are eating restaurant and takeaway-style foods like this which are easy to replicate in a home kitchen. They are also shopping for supermarket versions of their favorite fast foods.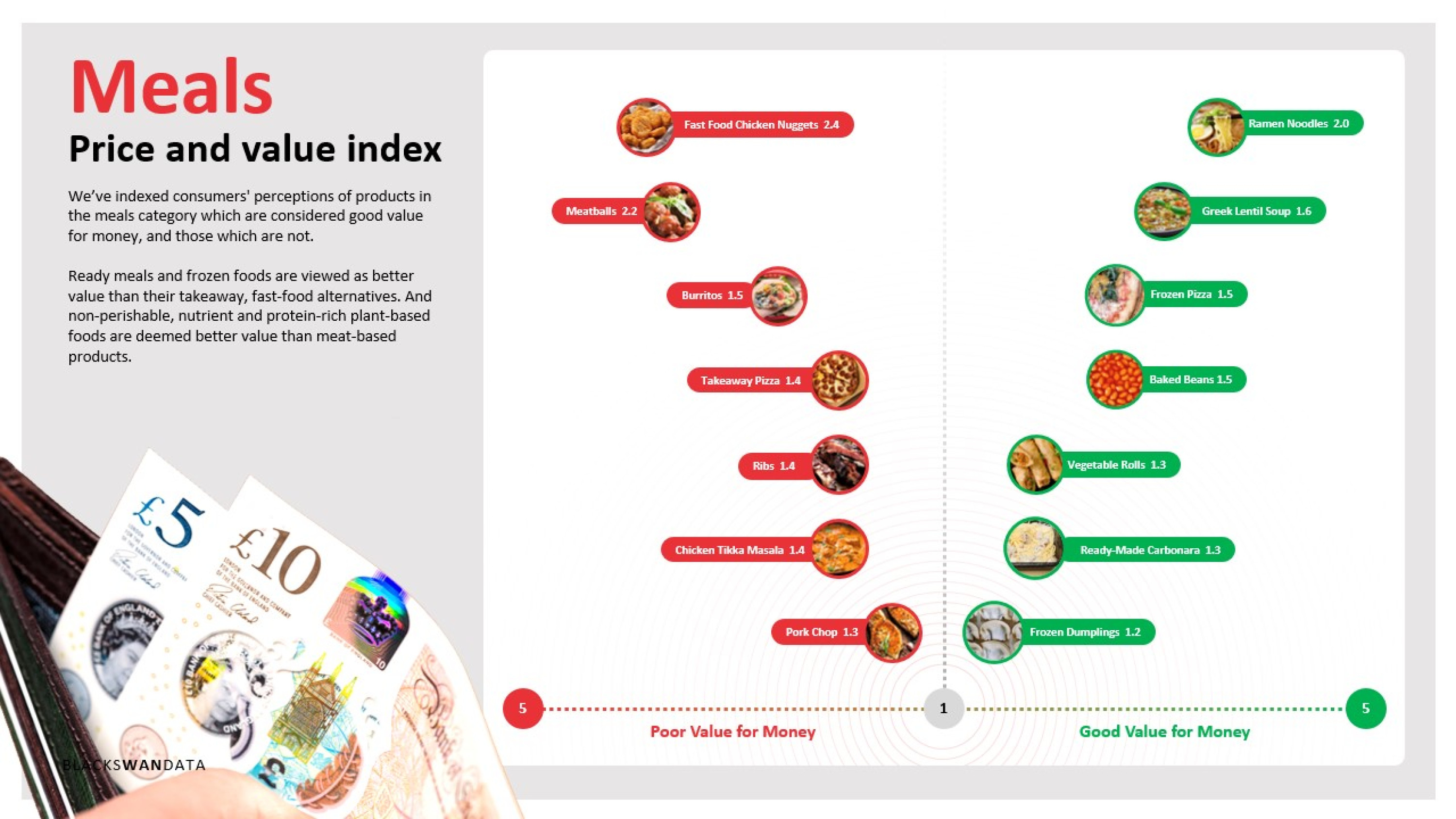 'Frozen Pizzas' and 'Ready-Made Carbonara' are seen as good value for money; 'Fast Food Chicken Nuggets' and 'Takeaway Pizza' are not.
There is an opportunity for brands that play in the meals space to create ready meal products and meal-kits which are closer in style and can rival the flavor of takeaway foods.



#2 Shrinkflation Frustration


Shrinkflation is a major issue for consumers in the Snacking space. Online conversation around this topic is forecasted to grow by 34% over the next 12 months. And consumers' frustration is growing equally fast.
This is particularly true in the mass-produced chocolate space. Consumers are observing that their favorite chocolate bars are reducing in size and quantity, but are being sold at the same price, if not for more.
Snacking is an emotive behavior – a person's favorite snack provides key emotional and nutritional support on a daily basis.
Brand loyalty is high. But so is the discontent when their favorite brands which they've purchased for years are suddenly less affordable.
'Confectionary' and 'Biscuits' are viewed as poor value for money for similar reasons. This trend is damaging consumer loyalty in this space.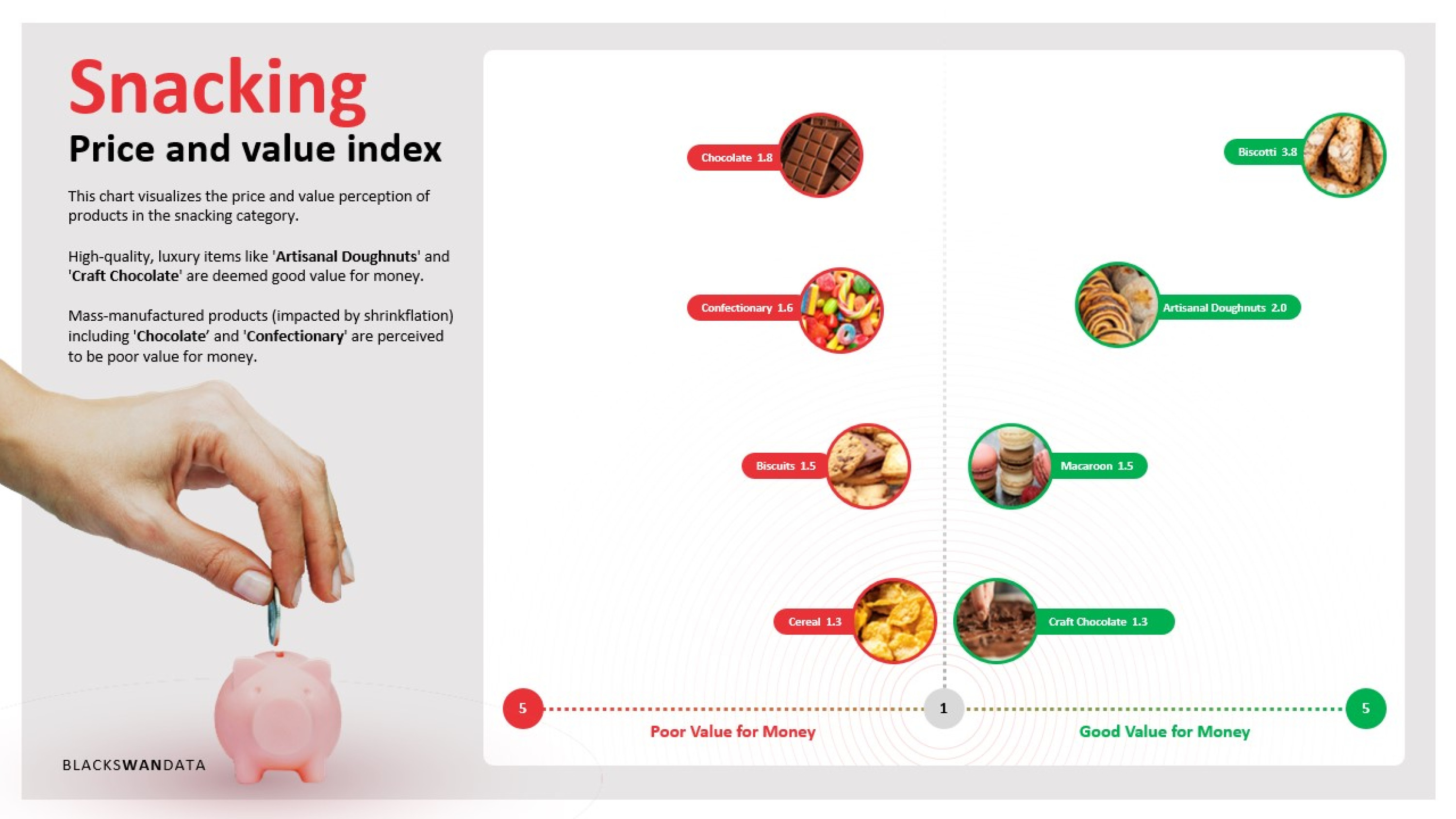 So, how can brands win consumers back?
Brands must offer consumers something extra or experientially new if the price tag is adjusted. Such as a limited-edition flavor or a nostalgic return to an old flavor.
'Bold Flavors' are also trending in our data. Consumers are looking for the inclusion of something new, bold or luxury to feel as if the price or size change is worth it.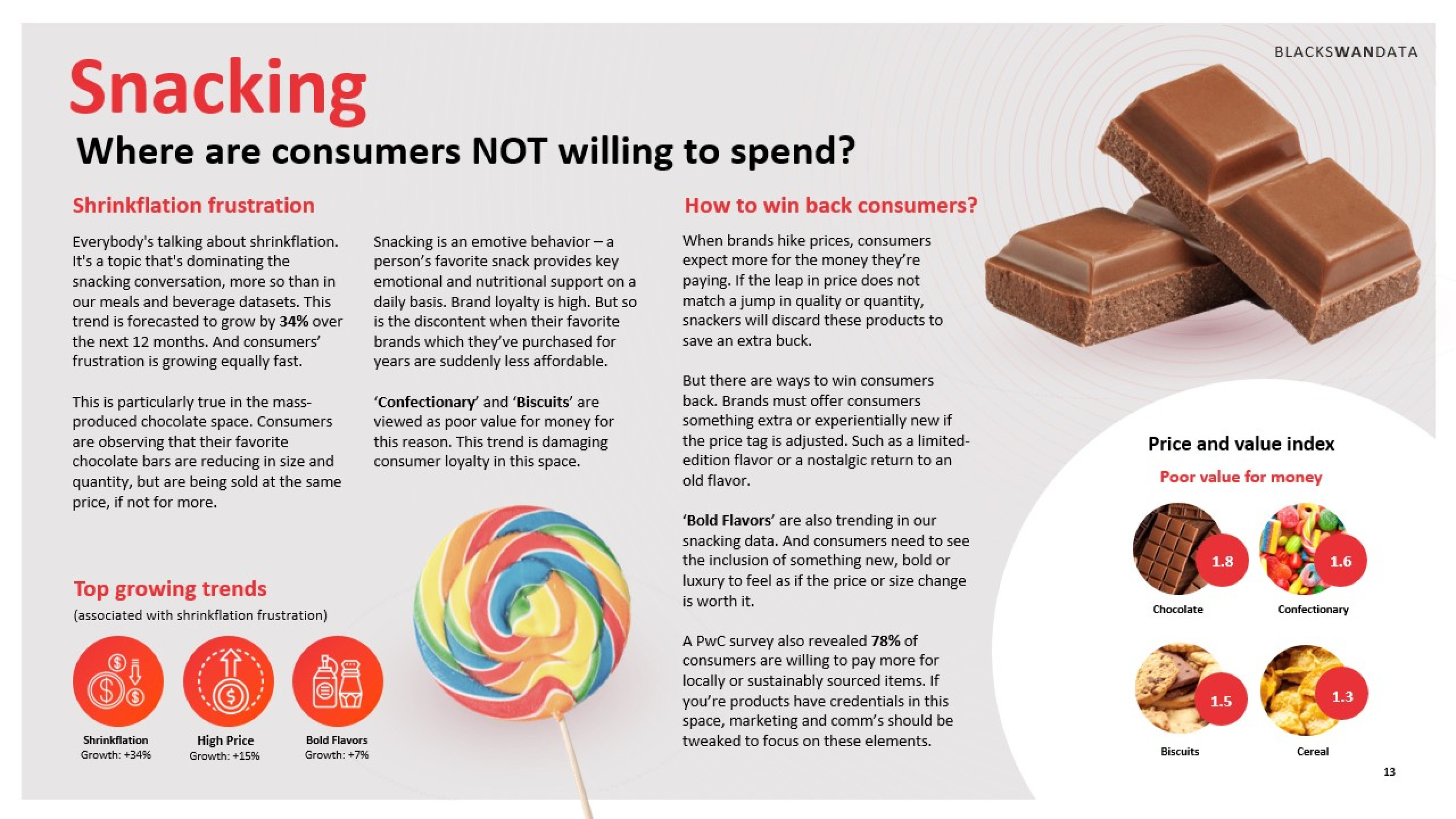 #3 Consumers Cutting Out Coffee
The surging price of coffee is impacting the coffee-drinking habits of consumers at all budget levels.
Those at the high end have taken barista coffee from the café to the home. People at the lower end are being squeezed by the rising price of instant coffee, which is up by 13%.
For consumers missing the coffee shop, there is an opportunity for brands to create high-quality and flavored coffee options to elevate the at-home experience.
Our platform has surfaced growth pockets in pre-prepared options including 'Caramel Coffee' and 'Coffee Frappe', as well as 'Cinnamon Syrup' and 'Vanilla Syrup'.
Product innovation in this direction will satisfy consumers' unmet need for elevated homemade coffee at a lower price point.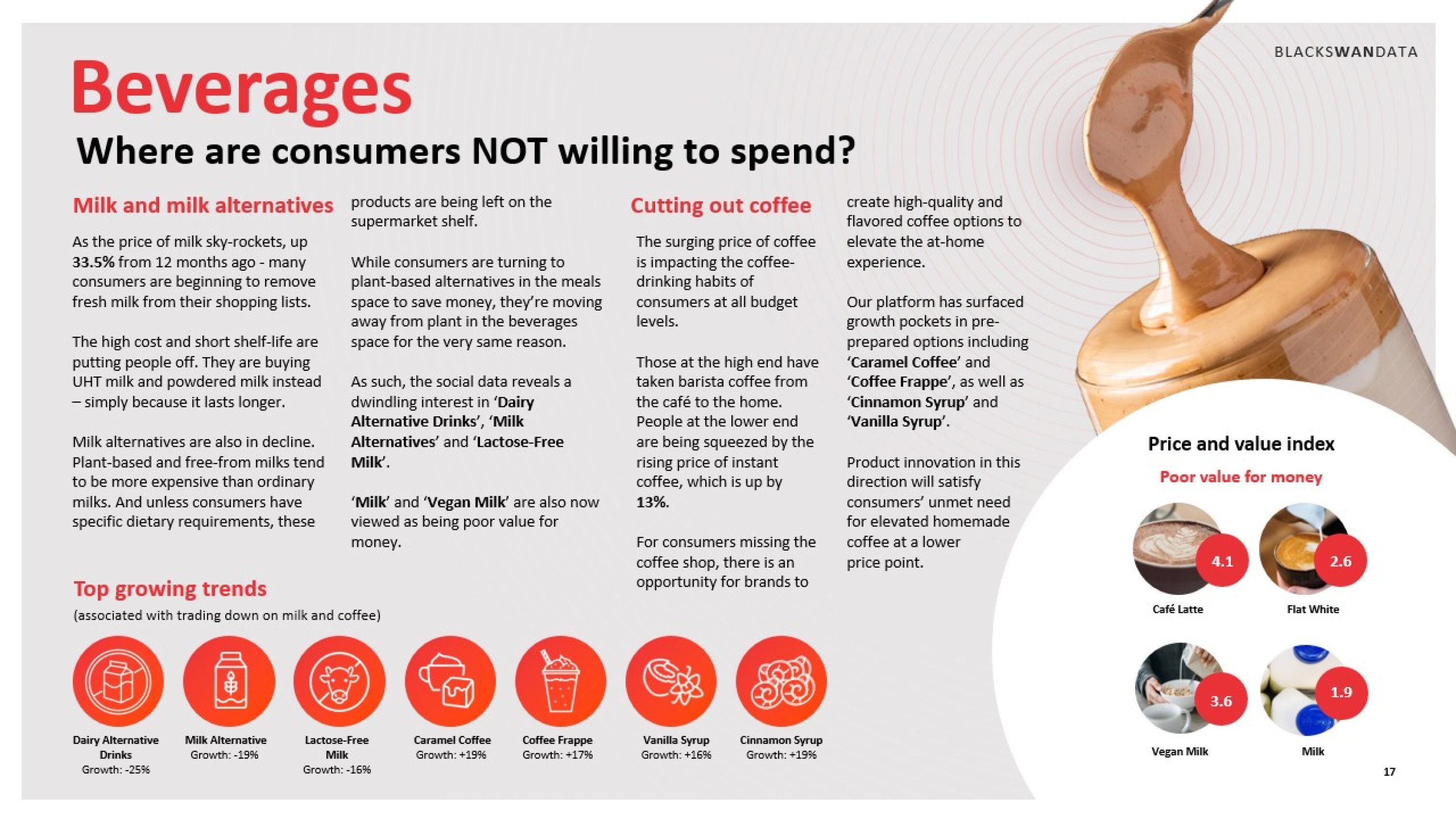 Download the FULL report
This report is just a glimpse of the expansive and in-depth brand and strategy work we deliver for CPGs in this space.
To find out how Black Swan can apply Price & Value intelligence to your innovation programs, please reach out.