See what happened when three Black Swan Data developers took part in the Microsoft IOT Hackathon in Hungary.
When asked if we wanted to take part in the
Microsoft IoT Hackathon
we didn't hesitate. Since we already had a keen interest in the field, we sat down to figure out an innovative idea based around environment protection. The 
Microsoft IoT Hackathon
 is an international event to inspire problem solving using the Internet of Things, which brings together devices, sensors, cloud, data and your imagination. Black Swan Data supported the event by providing an enormous pizza dinner and a seemingly infinite amount of energy and other soft drinks for the contestants. [caption id="attachment_1111" align="aligncenter" width="300"]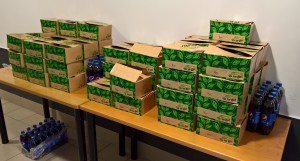 Is anyone Hungary?[/caption] [caption id="attachment_1110" align="aligncenter" width="300"]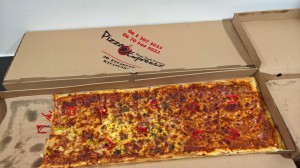 18 metres of Pizza![/caption] Before the hackathon started we had the opportunity to learn from two great lecturers. Joe Wilson from Microsoft talked about trends in technology and showed us a fancy 3D presentation made with Unity. Ádám Lipécz from Codie also spoke about how difficult building a start-up is.
Introducing Sanyi
Our project was an Intelligent Selective Trash Bin which we simply called Sanyi (our nickname for Alexander in Hungarian). The basic idea was to motivate users by giving them points for usage to help protect our environment. From a technical point of view, there were three main parts; the bin itself, the server and the mobile app. These tasks were split between the three of us.
Áron
 worked on the mobile app with the QR code reader (since then he has begun to try his hand as an iOS developer on one of our projects).
Norbert
 developed the server based on NodeJs, Express and MongoDb plus he created the API which held everything together.
Bence
 took care of the Bin and coded the sensor, using Raspberry Pi and a shoe box. On day one we had our desks arranged, attended lectures in various topics related mostly to 
Microsoft Azure
and had time to prepare our presentation about our idea, and got some very useful feedback. Day two was about development and presentation. We finished our development in time (unlike most of the teams), and prepared an amazing presentation. And our combined efforts and great idea, led to us scooping first prize for the whole event! It was a great opportunity to be creative under pressure, and an experience I am grateful to have been part of. [caption id="attachment_1113" align="aligncenter" width="300"]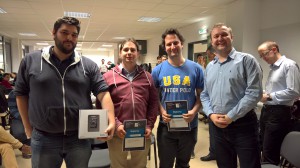 Team Sanyi the Victorious![/caption]