Lipstick out, moisturiser in
Back in August, the famous 'lipstick index', a phrase coined by Leonard Lauder signifying the resilience of cosmetics during times of economic turmoil due to consumers turning to makeup as an affordable indulgence, was substituted by the 'moisturising index'. It's no surprise to both consumers and brands why this shift has occurred. A lot has changed to our daily skincare routine over the past eight months. With a global lockdown causing less of us to go outside, the need to wear lipstick has declined, along with the demand for most cosmetics. And for those of you that have attempted to wear lipstick with a mask – you'll understand why. This change in lifestyle and routine has resulted in skin care products, creams and DIY home beauty treatments to spike in popularity. McKinsey's article on
How COVID-19 is changing the world of beauty
states "for prestige brands, we see 55 and 75 percent decline in cosmetic and fragrance purchasing" whilst "skin-care, hair-care, and bath-and-body products appear to be benefiting from self-care and pampering trends". So what does this all mean? The move from cosmetics to skincare has highlighted a real shift in consumers' rituals and behaviours. People are still looking for inexpensive ways to treat themselves but they're turning to new ways to stimulate this comfort and well-being. A new consumer ritual that Black Swan Data has identified as a future growth driver is lip care. At Black Swan Data every trend is organised into our proprietary Innovation Lens framework. Innovation Lenses allow us to identify and analyse all the trends within a particular area to understand how they compare and interrelate. We can then analyse them using techniques like network clustering to understand how similar trends ladder-up into macro growth drivers.
You can learn more about what we do here
. From our Skincare Dataset, we have taken over 10 million online conversations to identify nearly 18,000 individual trends and topics, alongside 42 trend clusters. When looking closely at these clusters, lip care is identified as a growing trend.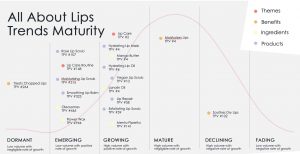 Tell me more about lip care ..
Moisturising and soothing remain of major importance for consumers and continues to be the 'core proposition' of any lip balm. However, brands can find innovation in format, texture and ingredients. There are two major ingredients that are gaining traction in consumer conversation:
Aleurites Moluccana (Kukui Oil) – Growing TPV#5 (out of 7453) +26% Net growth Out of more than seven thousand ingredients, Aleurites Moluccana, from the island of Hawaii, is growing in popularity as consumers find it soothes chapped lips, increases moisture and is seen as ethical and natural.
Oleosomes – Emerging TPV#465 (out of 7453) Thinking further ahead the emerging ingredient, Oleosomes, are natural oil droplets found in plants and seeds and are esteemed for their easy absorption and skin protection.
Outside the above 'core proposition' of moisturising and soothing, we have identified three emerging consumer needs:
Hyperpigmentation TPV#6 +480% net growth within lip care An emerging concern within lip care is consumers need to protect their skin from UV rays and the impact of the sun. Consumers are searching for treatments against hyperpigmentation.
Matte / Tint TPV#194 +172% and TPV#142 +113% net growth within lip care respectively The interest in lip care products with a tint or matte effect has been rising. Consumers are seeking products that will nourish their skin whilst giving them a healthy look.
Vitamin E TPV#184 +48% net growth within lip care Added vitamins that support bright looking skin are also of increased interest for consumers. Vitamin E, a mature and well-known ingredient within skincare, is emerging in the lip conversation for its nourishing and protecting properties.
From reactive to proactive lip care: Our top three topics to watch
Consumers are moving from a reactive approach to proactive care of their lips. This shift in mentality impacts the type of products and benefits they seek. We're sharing three topics that we've recently uncovered consumers are talking about:
1. The rise of Homemade
The global pandemic has undoubtedly left most of us with more time at home. As part of consumers' new skincare routines, many are beginning to purchase natural ingredients and make their own products, demonstrating how the homemade trend is not reserved for the kitchen.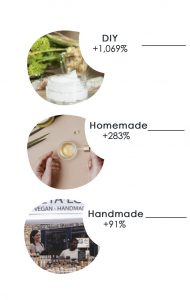 2. The drive for Natural
In contrast to our Homecare and Shower categories, where consumers are moving back to scientifically proven products and claims about germ-kill and hygiene, the green beauty trend keeps growing across the Beauty category, specifically Lip Care. As the homemade trend is accelerating, the search for natural lip care does also, reflecting how consumers are empowered to buy their own ingredients and developing an awareness for what they are applying to their skin.
Get rid of the nasties Parabens have been pointed out for some time now in the skincare industry, yet it remains among top consumer concerns.
'Natural' and 'made with natural ingredients' Are phrases that are being increasingly used and sought after. Featuring these claims on packaging will guide consumers' decision.
Organic certification Organic certification is also of great importance as it delivers a tangible proof that your product has passed the required specifications.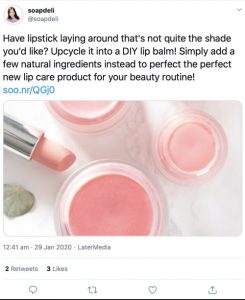 3. The Niche but Growing Male Target
Although far less developed than the women's category, men's rising interest in skincare and lip care is evident. This demand is forecast to grow in the coming months and years, presenting an opportunity to develop a strong and early, presence in this niche space. However, lip care is still deeply anchored and geared towards women, creating a need to democratise lip care for men. Creating products that specifically reflect men's needs will require thinking of new formats and scents.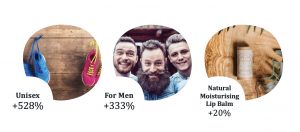 How Social Prediction can help your business grow
We combine our always-on trend prediction software with world-class strategic consultancy to map, quantify and prioritise the drivers and trends that will fuel future category growth. It helps companies to pre-empt shifts in consumer behaviour and determine where, how and when to innovate effectively. We work with clients including PepsiCo, Danone and McDonald's to put Social Prediction at the heart of their expanding foresight capability. Social Prediction supports: Innovation Our technology identifies the new and emerging topics of conversation earlier and scientifically predicts which will go on to become mainstream trends. It enables companies to uncover breakthrough insights earlier and drive faster, more agile innovation programmes. Category Strategy Mapping We use a 'bottom-up' network clustering approach to ensure our category segmentation is truly consumer-defined. Our trend prediction metrics are then applied to ensure our recommendations are forward looking and keep brands ahead. Communications We help define Positioning and Communications using our Social Prediction data that understands how consumers organically talk about the wider category or need-state in their own words. To find out more about how we apply Social Prediction to Skincare data to drive business growth
contact our team today
or read more about what we do in our blogs below.