We're entering tricky economic waters. Rapid inflation has created a cost-of-living crisis on the heels of a pandemic, with consumers struggling to pay for everyday goods. As raw material costs rise and disposable incomes shrink, the CPG industry is starting to feel the squeeze. Indeed, if your executive team is challenging budgets allocated towards innovation and consumer research, you're far from alone. But this doesn't mean innovation should stop – far from it. However, brands do need to rethink how they innovate. This blog explains how CPG brands can fuel successful innovation in product or positioning through locating value, and how this approach will help them safeguard their business throughout the cost-of-living crisis.
What lessons can we draw from past economic downturns?
When the economy takes a dip, companies usually turn to hiring and discretionary spend freezes, supplier and stock-keeping unit (SKU) rationalisation, and savvy revenue management. These are all worthy levers to pull – but this doesn't mean all spending should stop, especially when it comes to innovation. McKinsey research, demonstrated in the graph below, shows that companies which take a long-term view over their innovation investments see notable increases in their share price compared to those which put innovation on the back-burner.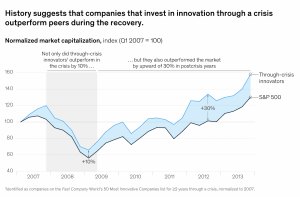 Of course, one McKinsey slide alone will hardly convince your CFO to continue pouring money into innovation – especially when you consider that innovation failure rates are generally estimated to lie anywhere from 40-90%. So with that in mind, how can you demonstrate the business case for innovation, and the associated research that fuels successful innovation projects? How can you show that innovation might actually be the solution to tackling the current economic crunch?

Building pricing power by understanding and activating on your full value
According
to renowned academic Clayton Christensen, "When we buy a product, we essentially 'hire' something to get a job done. If it does the job well, when we are confronted with the same job, we hire that same product again." This principle – also known as the Theory of Jobs to Be Done – highlights that consumers always yearn for products that perform critical jobs, even if they have less money in the bank than usual. Indeed, products that complete these jobs in an innovative, efficient and effective manner will be particularly popular. Therefore, companies must be increasingly mindful of what drives consumer value in their categories and portfolio, and which attributes (product or emotional) are required to realise this value. Brands and products that offer advantaged value – that's to say, which tangibly improve the jobs they perform for consumers – will be more likely to grow or hold their value share. Consider peanut butter, for example. What's its primary 'job to be done'? Is it to provide a tasty spread option you know your kids won't reject? Or is it to be an affordable, natural, protein-packed, plant-based food that can power you and your family's morning, leaving you feeling better about what you're eating?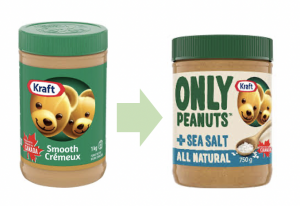 Go beyond the primary, obvious value, and you might surface invaluable reframing opportunities that will help you maximise its perceived value advantage. This may well require a little product reformulation, but it's well worth it if these changes make you more relevant to consumers' needs and help mitigate potential volume losses associated with price increases.

Adopt new technologies to bridge the innovation insight gap and increase your odds of success
Today's CPG innovation process is agile and digitally enabled, with overnight idea screeners and collaborative consumer community platforms fuelling increasingly iterative, rapid workflows. Companies are also paying more attention to The Theory of Jobs to Be Done – meaning they centre innovation around the core problems they're trying to solve for consumers. That said, the core innovation pain points remain largely the same:
Needs-based segmentation may serve a moment-in-time strategy planning deck. However, they don't offer the granular and predictive capabilities that brand and innovation teams require on an ongoing basis.
Ideation workshops take creative leaps within a broad opportunity space, meaning activation ideas are often formed from qualitative judgments/creative strategists alone. Creativity is obviously needed, but not in lieu of tangible, data-driven insights.
Companies therefore over-rely on idea screening as the one single source of truth. This stymies successful innovation. After all, companies can only be as innovative as the best idea they thought of.
Fortunately, there's a simple solution to your innovation pain points: Trendscope, Black Swan Data's proprietary social prediction tool.
Trendscope
is an always-on solution that vastly improves your chances of innovation success. It continuously processes millions of online consumer conversations, transforming these into the jobs consumers want to be done, as well as the key products, product attributes and brands in a macro-category. It then plots these trends' maturity and growth outlook before using machine learning to understand how consumers associate these trends. Finally, it creates a needs-based category growth framework that is both future-facing and connected back to the relevant granular trends. In short, it helps you connect jobs to be done with the relevant trends and product characteristics that can fuel more successful innovation ideas, brand restages and refreshes.
Clients typically deploy our solution in one of two ways. First, to fuel incremental innovation ideas by locating a high-potential consumer need and exploring the jobs and product characteristics that consumers associate with it. Or, secondly, to ideate around how a particular product type (such as peanut butter) can be reframed and made more relevant. Several clients recently asked us if we can understand the extent to which their category growth frameworks will be affected by the recent squeeze in discretionary income. The short answer? Yes, we certainly can. We've been able to identify the categories and aspects of their growth frameworks that have the highest levels of pricing and value-led conversations. Plus, we've also discovered what are driving these conversations, and which guardrails can help companies to innovate in these spaces successfully.
Intrigued? To learn more,
read our latest eBook
on the impact of the cost-of-living crisis on the Cosmetics industry.

How to get started
Look, we understand – as thought-provoking as the above points are, you're probably just trying to work out how to manage the recent 20% budget cut you've been handed. However, this is where a self-serve platform like Trendscope can help you achieve better innovation outcomes for less cost or time. Consider the following questions:
Do you need to commission or refresh a demand space segmentation or U&A? Why not explore using Trendscope to identify growth opportunities and connect these with the specific trends driving them, on an always-on basis?
Can you in-house more of your innovation ideation and workshop facilitation? For example, reducing ad-hoc agency spend by building data-driven idea springboards via Trendscope ?
Can you reduce your concept testing by using predictive, more robust data at the ideation stage to get better results the first time around – or to optimise existing products?
In summary, now's the time to double down on product and positioning innovation, using new technologies that can deliver a connected red thread of data-driven insights throughout your innovation process to deliver speed, confidence and cost savings. Are you ready to get started? If so,
get in touch
– the Black Swan team would love to hear from you.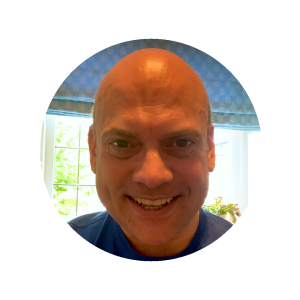 Phil Norminton is Black Swan Data's Vice President of Insights. Prior to working at Black Swan, Phil developed his career working in customer success, country and commercial strategy & insights leadership roles for Streetbees, Nielsen, and Pepsico. To talk to Phil or a member of the team please contact us at
hello@blackswan.com
.