The Vitamins, Minerals and Supplements category has never been healthier. Fuelled by Covid, the category's heartland of immunity and prevention has seen a huge resurgence amongst both core and new consumers over the last 18 months. Alongside immunity, consumers new heightened awareness and holistic approach to mental health means products linked to reducing anxiety, helping with insomnia, or aiding mental clarity are becoming increasingly desired by mainstream consumers.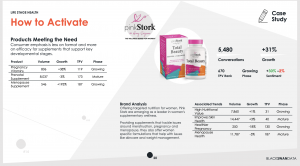 Simultaneously, innovative players have successfully taken advantage of longstanding wellness and personalisation trends to create propositions that trade-up consumers by catering to age, gender and life-stage specific needs. For example, offering targeted nutrition for women,
Pink Stork
are emerging as a leader in women's supplementary wellness by providing supplements that tackle issues around menstruation, pregnancy, and menopause.
Blurring category boundaries The acceptance of different products, formats and brands that can deliver against healthcare needs is becoming increasingly proliferated. For example, consumers are demanding the convenience and product experience that suits them for a specific occasion. For some, that's a relaxing fortified cup of tea in the evening, for others it's a chewable gummie kept in the gym bag and consumed on-the-go. The point is that today's consumers are thinking beyond our traditional view of the category. The reality is, of course, that consumers don't view the category like we do. In fact, they don't think of it as a product category at all. There are no barriers or boundaries in a shopper's mind as to which aisle they should purchase health and wellness products from.
This creates obvious opportunities for Vitamins, Minerals and Supplements incumbents. If you can understand the formats, occasions and needs that are growing in relevance (and your brand has the right to play in this space), then you open up new product extensions, categories and exponential growth opportunities. Centrium infused latte anyone? The key to unlocking this growth potential is understanding the category needs and wants from the 'bottom-up', i.e. the consumers' perspective. See our blog on how
Behavioural and Data Science
approaches are revolutionising how this can be achieved.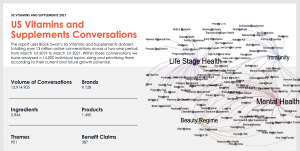 New opportunities: new threats
However, incumbents beware. The blurring of categories is of course a double-edged sword. Whilst consumers are ready for mainstay Vitamins, Minerals and Supplements brands to move beyond the well-known pill form, they are also open to other product-types and brands entering this space and fulfilling their health and wellness needs. Brands from mainstream Food, Beverage and Personal Care categories are activating food as medicine innovation platforms and adding functional benefits to open up cross-category health and wellness opportunities. From
Nightfood's
sleep inducing ice cream to
Vital Protein's
complexion enhancing collagen chocolate snack bars, the blurring in consumers' eyes between pharmaceutical, nutrition and personal care categories has never been more noticeable.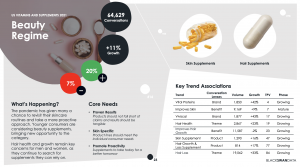 The battleground strategies: how to defend and attack the Vitamins, Minerals and Supplements category For incumbents: How to defend?
1. Double-down on your points of difference: science and evidence.
Brands like
Vitabiotics
back their supplements with science, innovation and testing to reinforce with consumers that they're getting the highest quality and effective supplements on the market. Quality, evidence and transparency are increasing in importance as new, discerning consumers enter the market. ​Consumers are looking for proactive messaging around high strength and micronized, believing products that incorporate these technologies tend to be more effective than their counterparts.
2. Innovate in formats
Brands need a variety of formats: chewables, tea and gummies to suit the different lifestyles and everyday needs of proactive consumers. However, consider new formats beyond purely their primary ease of use. The associated efficacy benefits of each different product type can help support the overall brand promise. For example, supplemental forms of tea or oil like Nordic Naturals are talked about by consumers as enabling nutrients to be more easily absorbed by the body and therefore efficacious.
3. Efficacy through easy absorption
Where possible, consumers want to feel the benefit of supplements. For example, in immunity, this means feeling our best and the consistent absence of any typical cold symptoms. Bioavailability and nutritional uptake are seen as key factors in both quality and efficacy, with consumers looking for claims of fast absorbing and micronized as key indicators.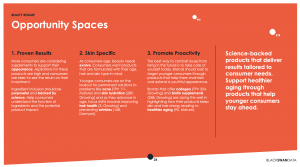 For new-entrants: how to attack?
1. Ensure you have the right to play In every CPG category consumers are increasingly discerning and clued-up; none more so that Vitamins, Minerals and Supplements. Don't overstep the mark with spurious marketing claims or knee-jerk Covid reactions. Discovering that your snacking product contains zinc and slapping an immunity boosting sticker on your packaging is a serious no-no. Instead, understand from sources, like social media, which benefits consumers already associate with your brand to see what's permissible and how you can build credible reasons-to-believe. 2. Natural, quality ingredients Reinforce your product proposition by talking about natural ingredients that connote efficacy and give reasons to believe. For example, the demand for natural products is particularly prevalent in consumer conversation related to developmental supplements. Consumers discuss bioactive ingredients and bioavailability and see natural supplements that contain ingredients like Maca Root, Mint Oil and Raspberry Leaf as a safe but effective option. The sourcing and quality of ingredients should also be considered alongside packaging choices that support the brand values and a sustainable future.
2. Mental Health & Acuity Create interest and a point of difference by focusing on new and growing benefit areas that slow-moving incumbent Vitamins, Minerals and Supplements brands aren't yet fully maximising, for example; beauty, mental health and sleep aid. Within the mental health and wellness space, consumers have specific issues they want to tackle. Products that offer targeted benefits around improving memory, reducing anxiety and increasing serotonin levels are growing fast. Support and inform consumers with a content and influencer-led approach that shows what progress looks like – think beyond the parameters of the category and into healthy, mindful living.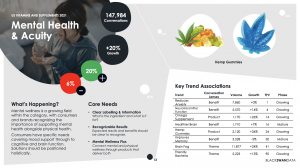 The battle lines are drawn …
Interest in Vitamins, Minerals and Supplements is intensifying. Understanding the emerging growth drivers and trends is key for both existing pharmaceutical players and innovative cross-category brands looking to expand into innovation territories that target functional benefits and health. The battle lines are drawn, who will seize the initiative? How can our data can help you? Marketing, Insight and Innovation teams are constantly challenged with seeing the category through the eyes of their consumers in order to truly understand and decode which forces and emerging trends will shape future attitude and behaviour.
At Black Swan Data we continuously ingest the entire online conversation surrounding the category to identify every topic that's being actively talked about by consumers. Topics are plotted over time into trends and data science models are used to understand how they compare, interrelate and ladder-up into category growth drivers. We then deploy prediction modelling to prioritise which drivers and emerging trends brands must activate now, versus in the future.
To dive even deeper into our predictions, you can download our
Vitamins and Supplements Prediction Report 2021
or alternatively, if you have specific questions about the future of this or related categories, one of our insight consultants would be happy to
arrange a call
.