Customers are changing the way they're viewing and consuming snacks. We've not only seen a long-term increase in snacking itself but also a shift in the reasons behind why shoppers are grabbing a bite or beverage. Instead of reaching for traditional formats or flavours, consumer's curiosity has piqued, as they search for restaurant experiences in the home. Alongside this, buyer's are also showing a renewed focus on nutrition, choosing healthier options to improve their mental and physical wellbeing. Using our US Snacking dataset, we've taken a deep dive into three major shifts that are occurring within the category; Simple Health Solutions, Mental Improvement, and Accessible Gourmet Experiences. Utilising millions of recent unprompted social and online conversations we believe these are the trends that should be guiding your marketing and innovation strategy in 2022+. Trend prediction quickly explained You'll see we've used our Trend Prediction Value (TPV) to rank the trends below. TPV is a scientific metric that ranks the thousands of conversation trends we're continuously tracking by their future growth potential. Put simply, the higher the TPV ranking, the higher certainty that this trend will be growing in consumer conversation in 6-18 months. It enables brands to spot future growth opportunities earlier, and use a scientific measure to prioritise which trends to action in their innovation and marketing strategies. You can find out more about
TPV
and our Social Prediction tool,
Trendscope here
. SIMPLE HEALTH SOLUTIONS Traditionally, snacking is considered as an activity of indulgence and excess. However, as the pandemic continues to highlight the importance of nutrition and health, users are turning to snacking products as a way to manage their weight, boost immunity and aid fitness regimes more holistically.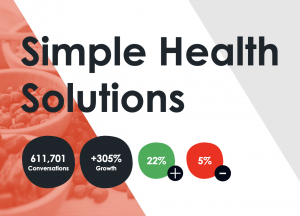 Where to focus Weight Management As consumers continue to place more emphasis on their health and weight management, many are turning towards snacks as means for nourishment. Customers are crafting sustainable and holistic diet plans and therefore looking for products that focus on benefits such as Keeps You Satisfied (TPV #128) and Helps Maintain Metabolism (TPV #416). Immunity and Nutrients Whilst immunity boosting products are not new, Covid has ensured a resurgence on consumers' need to strengthen immune systems, infection recovery and optimal health performance. Fibre Rich (TPV #21), Nutrient Rich (TPV #36) and Boosts Immunity (TPV #75) are some of the top themes and benefits that brands should be looking to incorporate into their innovations. Consumers are increasingly embracing products that are rich in vitamins and minerals, and primarily focusing on the nutritional value. Health(ier), Fun Options With a 24% growth in conversation around healthier variations of products, consumers are turning to healthy, yet fun, snacks providing the traditional gratifying experience alongside the positive health benefits. Products such as Protein Ice Cream (TPV #2) or Rye Crisps (TPV #65) are growing ever popular. The pandemic has altered consumers' schedules and fitness routines, reintroduced concerns around immunity and health, and shifted eating habits. With this in mind, snacking brands have an opportunity to introduce simple health solutions that focus on providing the right vitamins and nutrients but without compromising on taste and texture.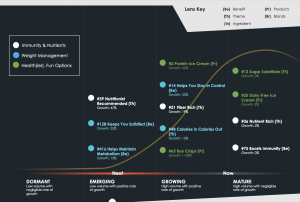 MENTAL IMPROVEMENT Whilst previously snacking has been viewed as a 'naughty' treat, more consumers are looking towards snacks as a way to improve their mood, guilt-free. Consumers are searching for foods that meet nutritional needs and boost mind functionality but also support emotional needs.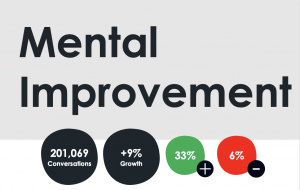 Where to focus Brain / Mental Function Consumers are looking to manage their stress, stay focused in their work and maintain more positive moods through sophisticated snacking choices. Brands need to tap into the functional sides of snacking by highlighting benefits such as Improves Thinking (TPV #120) and Nourishes the Brain (TPV #63) alongside new ingredients such as Lion's Mane Mushroom (TPV #25). Sleep Cycle / Sleep Energy
Repeated monotony has left consumers without the standard daily markers needed to manage one's energy and mood. Products that can help shift users back to their daily schedule, such as energy enhancers or sleep aids, will continue to be relied on. Benefits such as Helps Me Wake Up (TPV #32) and Aids Sleep (TPV #164) are at the forefront of consumers' minds right now. Emotional and Comforting Formats Permissible comfort eating to pamper and relax contributes to an overarching acceptance that snacking and self-care can come in hand in hand. Consumers are increasingly aware of the connection between what they eat and how they feel; both physically and emotionally. More snackers are leaning towards a delicious and convenient choice that leaves them feeling satisfied, nourished and guilt-free. #8 Peach Ice Cream (TPV #8), Sour Gummy Bears (TPV #18) and Madeleine Cookie (TPV #41) are some examples of products that are rising in popularity in the snacking space.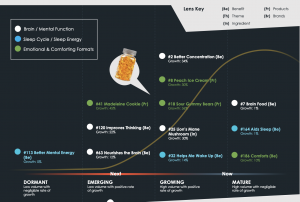 ACCESSIBLE GOURMET EXPERIENCES Over the past 18 months we've seen multiple lockdowns and experienced frequent isolations resulting in consumers unable to visit their favourite restaurant or travel to experience new cuisines. Consequently, consumers are upgrading their daily snacking routines to regain indulgent and elevated food experiences that are traditionally held in restaurants. Seeking that at-home, exclusive feel, consumers are looking for new processes and rich adventurous flavours all in an accessible format, to recreate a premium feel and satisfy curiosity.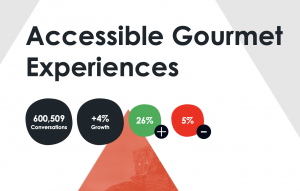 Where to focus New processes With 25% growth in conversation around flavour enhancing processes, consumers are reaching for products that differentiate themselves from the traditional such as; Cold Infusion (TPV #424), Dry Processed (TPV #473) or Freeze Dried (TPV #125). These processes provide a new and unique experience of snacking in the home. Rich flavour profiles Alongside process, there has been an 11% increase in consumers seeking rich flavour profiles. Brands should excite customers with full-bodied, internationally-inspired flavours such as Chilli Infused (TPV #366), Extra Strong Flavour (TPV #18) and Smoked Cheese (TPV #203). Affordable and accessible formats Easy to eat snacks will remain a popular item in consumers' kitchens. Products that are affordable and shelf- stable are favoured as it enables consumers to indulge in a gourmet snack at their convenience. Products that are Individually Packaged (TPV #4), advertised as Grab and Go (TPV #11) or Easy to Eat (TPV #59) will be essential to incorporate into their on- the-go lifestyles.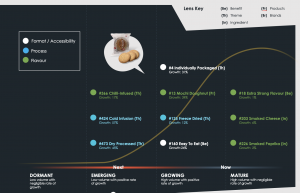 To dive even deeper into our predictions, you can
download our Snacking Prediction Report 2021
where you will find each micro trends mapped onto our maturity curve and specific competitor brand case studies. Alternatively, if you have specific questions, one of our team would be happy to
arrange a call
. How can our data help you? Developing robust business strategies and ensuring a continuous stream of meaningful innovation within the pipeline is easy, right? Well, not quite. Marketing and Innovation teams are constantly challenged with predicting what trends are here to stay, and which are mere fads, now more than ever. At Black Swan Data every trend we surface is organised into our proprietary Innovation Lens framework. Innovation Lenses allow us to identify and analyse all the trends within a particular area (e.g. benefit claims, products, ingredients, occasions, etc.) to understand how they compare and interrelate. We can then analyse them using techniques like network clustering to understand how similar trends ladder-up into macro growth drivers.