Covid has undoubtedly shifted consumer's cleaning habits and priorities. Although many of us are slowly easing out of the pandemic, and may feel 'normality' returning, the last 18 months has permanently elevated the importance of hygiene in the home, and consequently, purchasing behaviour. Traditionally, consumer's priorities have leaned towards convenient, affordable products that primarily disinfect and bleach, however, the safety and serenity of the family, home and environment has given rise to new holistic trends. Using our US Home Care dataset, we've taken a deep dive into three major shifts that are occurring within the category; Home Care as Self Care, Cleaning with Conscience and the importance of Lasting Clean Guaranteed. Utilising millions of recent unprompted social and online conversations we believe these are the trends that should be guiding your marketing and innovation strategy in 2022+.

Trend prediction quickly explained
You'll see we've used our Trend Prediction Value (TPV) to rank the trends below. TPV is a scientific metric that ranks the thousands of conversation trends we're continuously tracking by their future growth potential. Put simply, the higher the TPV ranking, the higher certainty that this trend will be growing in consumer conversation in 6-18 months. It enables brands to spot future growth opportunities earlier, and use a scientific measure to prioritise which trends to action in their innovation and marketing strategies.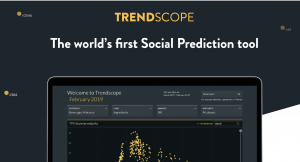 You can find out more about TPV and our Social Prediction tool,
Trendscope
here.

Home Care as Self Care
More consumers are viewing home care as an extension of self care due to the sense of relief and relaxation that comes from knowing their home is clean. Products with an uplifting sensorial format or are associated with relaxing, repeatable routines are driving this space.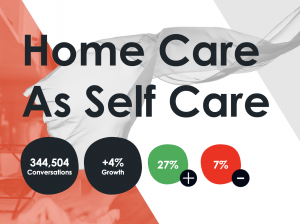 Where to focus
Sensory Experiences
Sensorial reassurance of a job well done helps consumers feel good about their home and, in turn, themselves. Customers are searching for products that create a therapeutic routine and aid calm and relaxation. New fragrances and formats are influencing customer's buying choices with a focus on trends such a Clean Odors (TPV #112), Masks Smell (TPV #157) and Original Scent (#1) becoming prevalent in the category. Mood Enhancement As customers become more aware of the effect cleaning can have on their mental well-being brands should display product messaging and packaging to Improve Mood (TPV #13) or provide Better Mental Energy (TPV #3).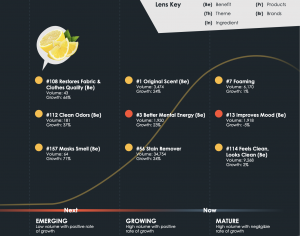 Cleaning With Conscience
Consumers are paying more attention to specific product properties to reduce unwanted side-effects and reassure their decision-making. Conversations around chemical additives and eco-conscientiousness are at the forefront of this trend. Brands should reduce unwanted repercussions by ensuring products are eco-friendly and safe for users and their loved ones.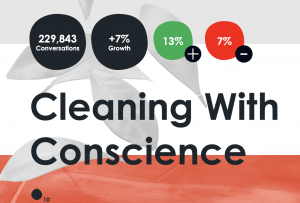 Where to focus
Safe in the Home
Consumers want direct and clear labelling with the assurances that their product choice will not only deliver on cleanliness, but also leave their homes toxic and chemical free. Brands should use package messaging to call out Non-Artificial (TPV #23), Safe for Pets (TPV #40) and Safe for your Skin (TPV #76) features. Eco-Friendly Once a cleaning regime has been completed, buyers also require knowledge they're product will not cause harm outside of the home. Compostable Packaging (TPV #164) is set to become integral to product packaging whilst Flushable Cleaning Wipes (TPV #32) and Saving Water (TPV #12) stays high on the priority list for consumers.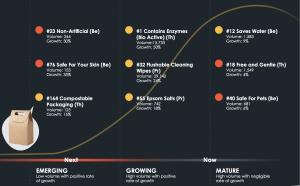 A Lasting Clean Guaranteed
The need for a consistent, complete clean has dominated the conversation and continues to grow as users maintain thorough and regular cleaning regimes. Trustworthy products and new cleaning technology are driving this space. Brands need to build consumer's confidence with innovations that enable a maintainable clean or provide long-term protection.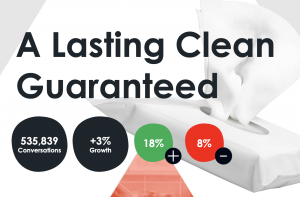 Where to focus
Maintainable Clean
Whilst the daily maintenance of home care continues to be prevalent, consumers will opt for products they can rely on for efficiency and effectiveness. New technology such as Robotic Vacuums (TPV #8), are growing in popularity, whilst advertising Advanced Formulas (TPV #140), instils trust and proficiency in the product. Long-term Protection Clear labels and messaging focused on long-term protection such as Prevents Mold Growth (TPV #41), Prevents Rust (TPV #50), and Protects Against Bacteria (TPV #21), will be integral to capture consumers attention.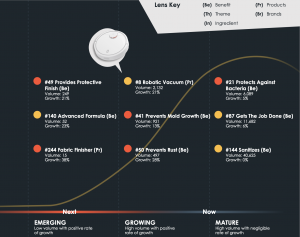 To dive even deeper into our predictions, you can download our
Home Care Prediction Report 2021
where you will find each micro trends mapped onto our maturity curve and specific competitor brand case studies.
Alternatively, if you have specific questions, one of our team would be happy to
arrange a call
.
How can our data help you?
Developing robust business strategies and ensuring a continuous stream of meaningful innovation within the pipeline is easy, right? Well, not quite. Marketing and Innovation teams are constantly challenged with predicting what trends are here to stay, and which are mere fads, now more than ever.
At Black Swan Data every trend we surface is organised into our proprietary Innovation Lens framework. Innovation Lenses allow us to identify and analyse all the trends within a particular area (e.g. benefit claims, products, ingredients, occasions, etc.) to understand how they compare and interrelate. We can then analyse them using techniques like network clustering to understand how similar trends ladder-up into macro growth drivers.