Covid is creating new opportunities in Skincare. Are you ready?
We've undoubtedly seen a shift in consumer's skincare routines over the past year. From at-home, DIY skincare products to covid-related issues such as 'maskne', our change in lifestyle and behaviour has resulted in many differing needs and wants.
As global organisations are confronted with the growth of niche and indie disruptor brands, and new ways of marketing to consumers, these organisations need to stay abreast of the constant shifts in trends. Adopting new ways to connect with their customers and reimagining products and innovations is now integral.
Using our Skincare dataset, we've taken a deep dive into three major shifts that are occurring in the Skincare category, enabling you to identify the future growth drivers and consequently choose the right trends to innovate and activate for 2022+.
Trend Prediction Quickly Explained
You'll see we've used our Trend Prediction Value (TPV) to rank the trends below. TPV is a scientific metric that ranks the thousands of conversation trends we're continuously tracking by their future growth potential. Put simply, the higher the TPV ranking, the higher certainty that this trend will be growing in consumer conversation in 6-18 months. It enables brands to spot future growth opportunities earlier, and use a scientific measure to prioritise which trends to action in their innovation and marketing strategies. You can find out more about TPV and our Social Prediction tool,
Trendscope here
.
DIY Clinical Skincare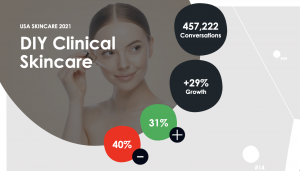 Consumers are increasingly looking for home-based efficiency in their skincare routine. With a 29% increase in conversation around at-home and clinical-grade skincare, consumers are investing in beauty technology, devices and new products to achieve targeted, salon quality results, at home.
With treatments that seamlessly fit into busy routines on the rise, innovations that enable stronger efficacy, such as clinically developed serums, or gadgets that facilitate easier beauty routines, such as skincare apps or facial trainers, are growing fastest amongst beauty trends.
Alongside this focus on high-efficacy ingredients and formulas, consumer's still want impactful products that truly work for the individual's need and skin type. Opposed to a cabinet full of lotions and potions, consumers are reducing the number of products used, instead, holding on to their trusted favourites and focusing on the products that deliver the expected result.
Products that simplify skincare routines, save users time, and provide consistent, high quality results are considered worthwhile investments. For example, products such as Serum Capsules (TPV 30) and Mask Applicators (TPV 45) have become a reliable consumer favourite, whilst associated trends such as Simple Cleansing (TPV 35) and Skincare App (TPV 33) are on the rise.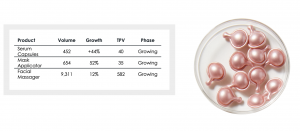 Where to focus …
Technology that improves efficiency of products through personalization like skincare apps or through effective packaging like serum capsules are becoming standard in the industry.
Brands should also follow an ingredient-centric approach to products. In marketing and communications, it's wise to feature few (or even one) ingredients. Educating consumers on the benefits of these select ingredients instils trust and clarity.
Consumers are willing to spend more in this space but ensured efficacy and efficiency are key to enabling long-term integration into consumers' skincare routines.
Living During Covid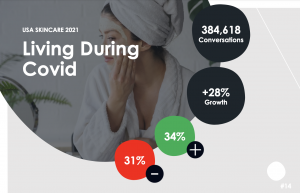 Daily routines have been transformed by the extreme changes Covid has applied to our lives in the past year. Despite our slow move back to 'normality', consumers' new routines are likely to perdure for some time. With this in mind, brands need to help customers adapt to their new routines and skin health regimes.
For example, constant hand sanitization and mask use has led to dehydrated skin and increased acne concerns; the latter currently coined as 'maskne'. Due to both practices unlikely to leave us any time soon, consumers are adopting the use of strong, skin-purifying products they know will both soothe and protect, without being too harsh.
Most notably, gentle cleansers and strong acids are being incorporated into daily routines to combat bacterial build up without damaging skin. Products such as Silk Face Coverings (TPV 54) and AHA Peeling Solution (TPV 21) are gaining traction alongside the Double Cleansing trend (TPV 7).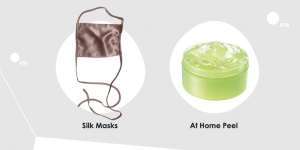 Where to focus …
With a 28% rise in consumer conversation about Covid-related skincare issues, targeting new needs whilst also focusing on concern for the long term is essential.
Consumers are looking for reactive products to these newfound problems, but brands should also focus on creating long-term adoptability. For example, products should transition from temporary acne treatment to breakout prevention as consumers begin to establish new practices such as precleaning into their routines. Protective, less harsh solutions like silk masks, will shape the category going forward as they prevent breakouts in the long-term.
Targeting the combative needs of today while generating new healthy skincare behaviours for continued adoption is key. Brands that have recognised this movement are proving more successful in the market by making it easy for consumers to adapt and adjust.
New holistic routines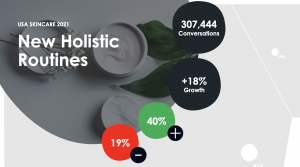 Consumers are not looking at skincare as merely a means to an end. New holistic routines mean that we are adopting wellness regimes that both support healthy skin and healthy minds. Consumers often view skincare as an opportunity to escape and practice self-care, brightening their daily lives.
From melatonin infused lip masks to rose quartz facial rollers, consumers are embracing products that can be used to manage mood and support overall well-being.
With wellness, mind and body benefits as part of a broader consumer mindset, many are also reducing their reliance on external additives, instead opting for natural ingredients. Fans of brands like
Simple
, consumers appreciate how their products consist of minimal ingredients, feeling these products work well alongside general wellness routines.


Where to focus …
Products need to remain simple, natural and feature easy to understand formulas, celebrate beauty, own time, space and individuality.
Transparency is also key. Consumers are seeking brands and products that align not only to their lifestyle, but also philosophies. Creating clear and honest ingredient use, processes and ethics is a must.
Brands like
Natura
and
Every Man Jack
have put their values at the core of their mission statement, making it easy for consumers to understand the brand's stance on issues that matter to them. Most noteworthy: cause-driven consumption is increasing.
How can our data help you?
Developing robust business strategies and ensuring a continuous stream of meaningful innovation within the pipeline is easy, right? Well, not quite. Marketing and Innovation teams are constantly challenged with predicting what trends are here to stay, and which are mere fads, now more than ever.
At Black Swan Data every trend we surface is organised into our proprietary Innovation Lens framework. Innovation Lenses allow us to identify and analyse all the trends within a particular area (e.g. benefit claims, products, ingredients, occasions, etc.) to understand how they compare and interrelate. We can then analyse them using techniques like network clustering to understand how similar trends ladder-up into macro growth drivers.
How do you identify emerging growth opportunities during a pandemic though?
We use a Covid Classifier to remove short-term, artificial trend spikes. By filtering out misleading Covid conversations, we are able to show the true growth of each trend and consequently, prioritise the trends that will sustain through and beyond Covid.
Read more on our Covid Classifier here.
To dive even deeper into our skincare predictions, you can download our
Skincare Report 2021
or alternatively, if you have specific questions,
one of our team
would be happy to arrange a call.