What's for dinner tonight? Tomorrow? In 2021 and beyond?
Our Foods and Meals trend predictions will tell you.
For many years, the most popular restaurant meal in Britain was prawn cocktail, followed by steak and chips, with Black Forest gateau for dessert. The heyday of this 'Great British Meal' was the 1970s, when specific meals were reserved for special occasions. The meal was sufficiently exotic to seem like a luxury, but familiar enough to be a safe bet. These days, we are a little more sophisticated in our tastes, and keener to try new things both in and outside the home, making food trends come and go much faster. Social media drives the proliferation of these trends across borders and cultures. Topics and trends that historically would evolve over years now come and go in months, if not weeks. As a manufacturer in this space with lengthy innovation cycles and complex supply chains it can be a minefield. It's hard to know which will sustain and stick versus which are just here for the short-term: unicorn spaghetti and charcoal ice cream, anyone? In a market where big CPG companies are losing $20 billion in sales every year to private label and small start-up food brands, innovation has never been more important. But where do you put your innovation dollars? And how can you improve success rates?
Social Prediction: Look at the world in a different way
There is debate about who said "It's hard to make predictions, especially about the future", but whoever it was clearly didn't have access to online conversation. Social Prediction enables us to forecast trends more effectively than by using traditional market research techniques. Social conversations are spontaneously generated, rather than in response to artificial questioning, they are available at scale, because they sample from the vastness of the internet, and at speed, because they involve no fieldwork time. This is crucial for CPG companies. If you are going to differentiate your consumer intelligence so you can innovate more effectively, you need to look at the world in a different way; the old methods just won't cut it. Our proprietary TPV (trend prediction value) ranking gives clients a scientific metric by which to prioritise new and emerging trends for first-mover advantage. The higher the TPV rank, the higher the likelihood the topic will grow in relevance to consumers over the next 6-18 months. And, yes, we know things have been a little different lately, but our algorithms are sufficiently smart to filter out the noise of COVID-19 on the conversation.
Three key topics to watch
As a taster, an amuse bouche, if you will, we're sharing three high potential topic areas to watch, that we've recently uncovered to showcase the dataset's breadth and depth.
1: Travel with Food
Consumers may not have the budget, time or inclination to trot the globe and, let's face it, we can't at the moment. So people are turning to new, cosmopolitan dishes, flavours and ingredients offering an escapism and excitement. In the US, top meals within this trend include the Mexican Italian fusion dish, Spaghetti Tacos (TPV rank #3) and the Korean ingredient, Gochujang Chilli Paste (TVP rank # 16). In the UK it's all about the Manti, traditional Turkish dumplings (TVP rank #4) and Bavarian Cream, which ranks #1 in Desserts.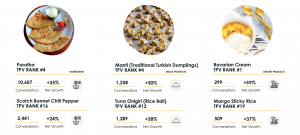 2. Conscious Consumers
The environment is, of course, an important macro trend all round, and consumers are concerned about every aspect of the meals they are eating, from packaging, processing, ingredients, carbon footprint, and emissions. What is interesting is that consumers are also doing this for personal reasons. They are combining helping the planet with health and wellbeing trends, seeking foods that are good for the environment and also healthy choices. In both the US and the UK we're seeing themes around reducing and replacing meat. Pea Protein is a top ingredient (ranked #3 and #6 respectively), and Carbon Footprint is also a top theme (ranked #8 and #4). Canadian brand Maple Leaf Foods has strong associations with this trend. The company has set the goal of aggressively reducing emissions to become the most sustainable protein company on earth – a bold statement for a company that is best known for its meat products.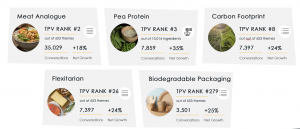 3. Mental Wellness Benefits
In an increasingly anxious world consumers want to look after their mental health, and are looking for meals that provide benefits such as Better Sleep, and Improved Mood. Natural ingredients such as Elderberry and Dandelion Greens rank high in the US in particular (TPV rank #10 and #28). This trend has been growing over the last few years, but is now more relevant than before. An interesting brand that has emerged in connection with this trend is Nightfood ice cream, which has been formulated by sleep and nutrition experts with better sleep in mind, targeting the 100 million plus Americans who already eat ice cream at night.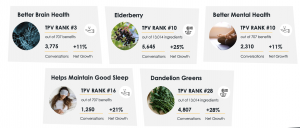 Food and meals dataset explained
Food and Meals is a new category dataset for Black Swan Data and, owing to its inherent scale and complexity, it is arguably our biggest undertaking to date. It contains 40,000 live trends derived from 315 million naturally occurring consumer conversations ingested from Twitter, consumer forums, review sites, news publications and blogs over the last two years. Every trend is organised into our proprietary Innovation Lens framework. Innovation Lenses allow us to identify and analyse all the trends within a particular area - for example Meal Occasions, Perceived Benefits or Brands - to understand how they compare and interrelate. We can then analyse them using techniques like network clustering to understand how similar trends ladder-up into macro growth drivers. This unique, consumer defined view of Food and Meals, combined with TPV, enables our clients to find
micropockets of growth
and emerging trends, earlier and more accurately than before. The dataset captures both in-home and out-of-home occasions and is an incredibly powerful source of consumer intelligence that can be used by food manufacturers, retailers, restaurant groups, food delivery providers and ingredient suppliers alike.
How Social Prediction can help your business grow
We combine our always-on trend prediction software solution, Trendscope, with Horizon, our programme of consulting that enables businesses to map the future category growth drivers and determine where, how and when to innovate effectively. We work with clients including
PepsiCo
, Danone and
McDonald's
to put Social Prediction at the heart of their expanding foresight capability. More specifically, Social Prediction supports:
Innovation
We can reduce NPD concept development programmes from 30 weeks to 30 days and slash validation budgets helping drive more agile innovation programmes.
Category strategy
We produce consumer-defined category landscape segmentation studies in days, not months, with every consumer topic that is being talked about being ranked, prioritized and mapped versus it's future growth potential. This segmentation is dynamic and can be monitored and tracked over time as consumer tastes and trends evolve.
Communications
Our clients have produced Brand Positioning and ATL copy based solely on Social Prediction data that understands how consumers organically talk about the wider category or need-state in their own words.
To find out more about how we apply Social Prediction to Meals and Foods data to drive business growth contact our team today or watch
our Foods and Meals on demand webinar.