By Allison James
Head of Professional Services, Black Swan Data


The sustainability landscape is vast, complex, and constantly evolving.
At Black Swan, we track around 500,000 consumer trends across CPG categories every month. Of those trends, a whopping 26% are associated with sustainability – whether that's packaging, ingredient sourcing or environmental impact.
Do the math – that's a lot of trends to keep up with!
Virtually every CPG brand out there has sustainability goals and promises they're working towards. But 'sustainability' means different things to different people, and it varies by category.
That's the challenge we often hear from innovators and brand managers. They know that sustainability and purpose are paramount; but they lack confidence when it comes to identifying what consumers actually care about, and how their brand or product portfolio should respond.



Sustainability in Context

Consumer expectations for sustainable innovation vary in each product category. And it can often be challenging to understand which trends matter for your consumer - whether that's a make-up lover or energy drink enthusiast.
Unfortunately, discovering what consumers really care about is not easy. Traditional research methods (like surveys and focus groups) introduce biases into the analysis - and can quickly lead brands down the wrong path.
A consumer may answer "yes" when asked if they consider biodegradable packaging important, but do they actively seek out products with biodegradable packaging in-store? Would they pay more for it?
Therein lies the challenge. Brands need a way to understand consumer needs within their specific product category, unfiltered and at scale.



Sustainability in Skincare

Let's take a look at the sustainability landscape within the skincare category.
Black Swan's consumer intelligence platform ingests hundreds of millions of online conversations in order to surface and prioritize trends based on their importance to consumers.
It plots trends on a maturity curve and ranks them based on their Trend Prediction Value (TPV), a measure of the topic's predicted importance in 6 months' time.
Within the skincare category,
Conscious Beauty
is the #3 TPV trend, alongside other high-ranking trends such as:
Combats Environmental Stressors (TPV #30)
Environmental Degradation (TPV #33)
Clean Ingredients (TPV #44)
Ethically Sourced (TPV #372)

Our platform helps brands understand which trends are most important to their consumers, as evidenced by the trend's conversation volume and predicted future growth rate. This helps brands prioritize the sustainability initiatives that are really going to endure and make a difference. Within the skincare space, protection and environmental impact are of primary concern.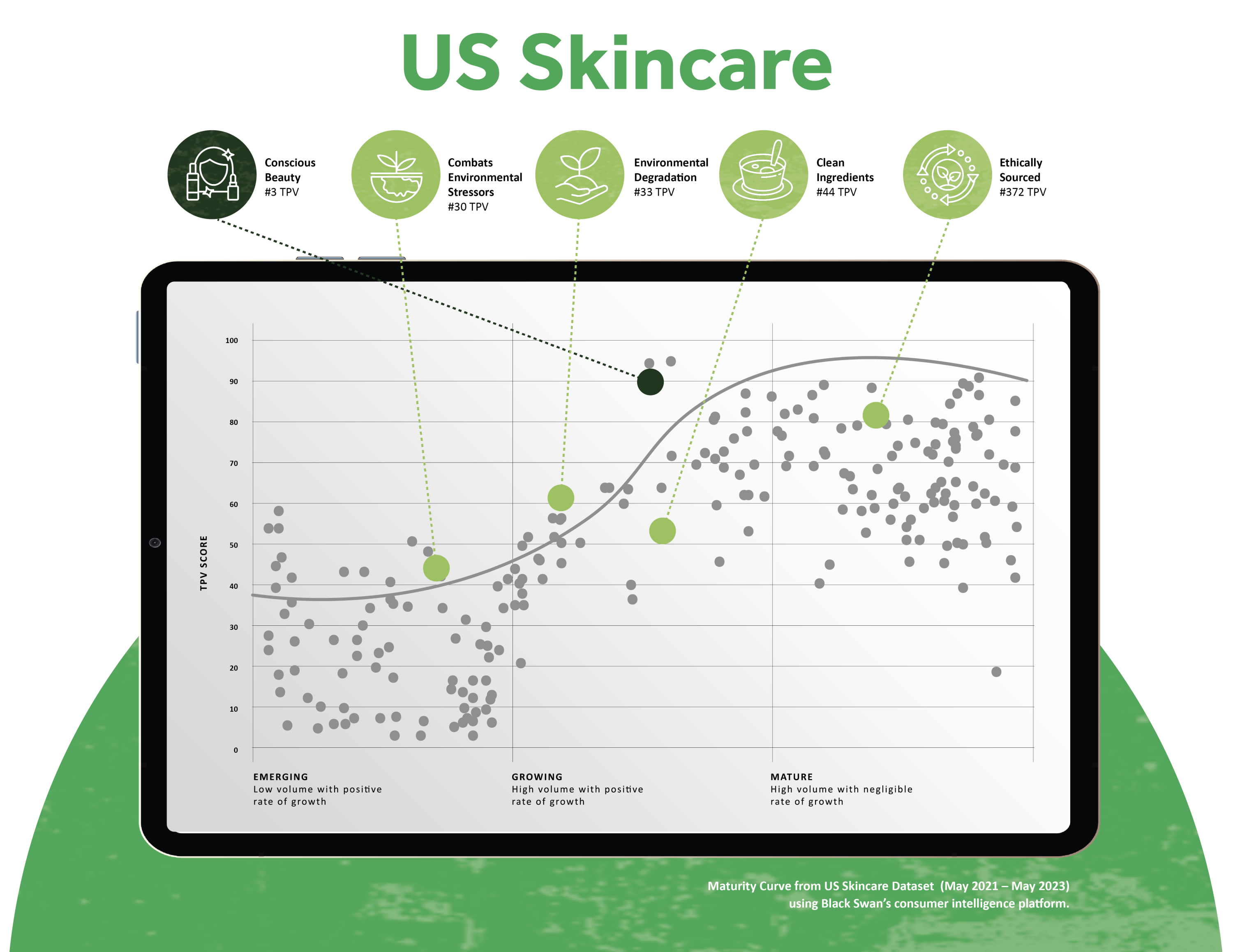 But why stop there? Our platform allows you to dig deeper into a trend to better understand what's driving it.
What does 'Combats Environmental Stressors' actually mean to a skincare consumer? What brands do they associate with it? How do consumers talk about it in their own words?
Our platform surfaces the products, benefits, brands and themes associated with any given trend, and allows you to view the consumer posts associated with each of those trends as well.
This ability to 'zoom in' provides invaluable qualitative and competitive insight.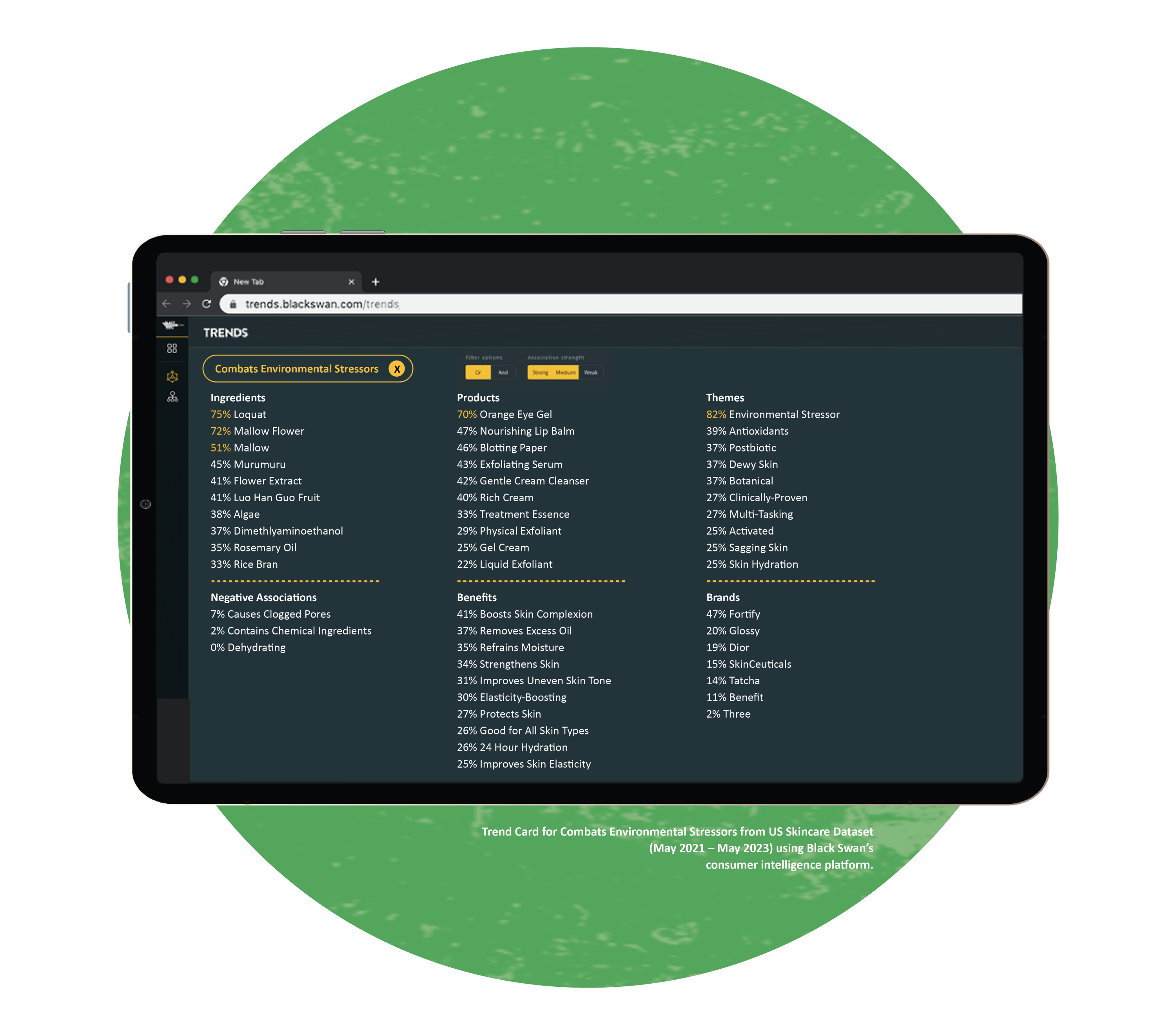 Sustainability in Beverages

Earlier, I mentioned that sustainability looks different in different product categories. So let's pivot and take a look at Non-Alcoholic Beverages.
In this dataset, sustainability ranks lower on consumers' list of priorities; the top trending topics are health, taste or price related.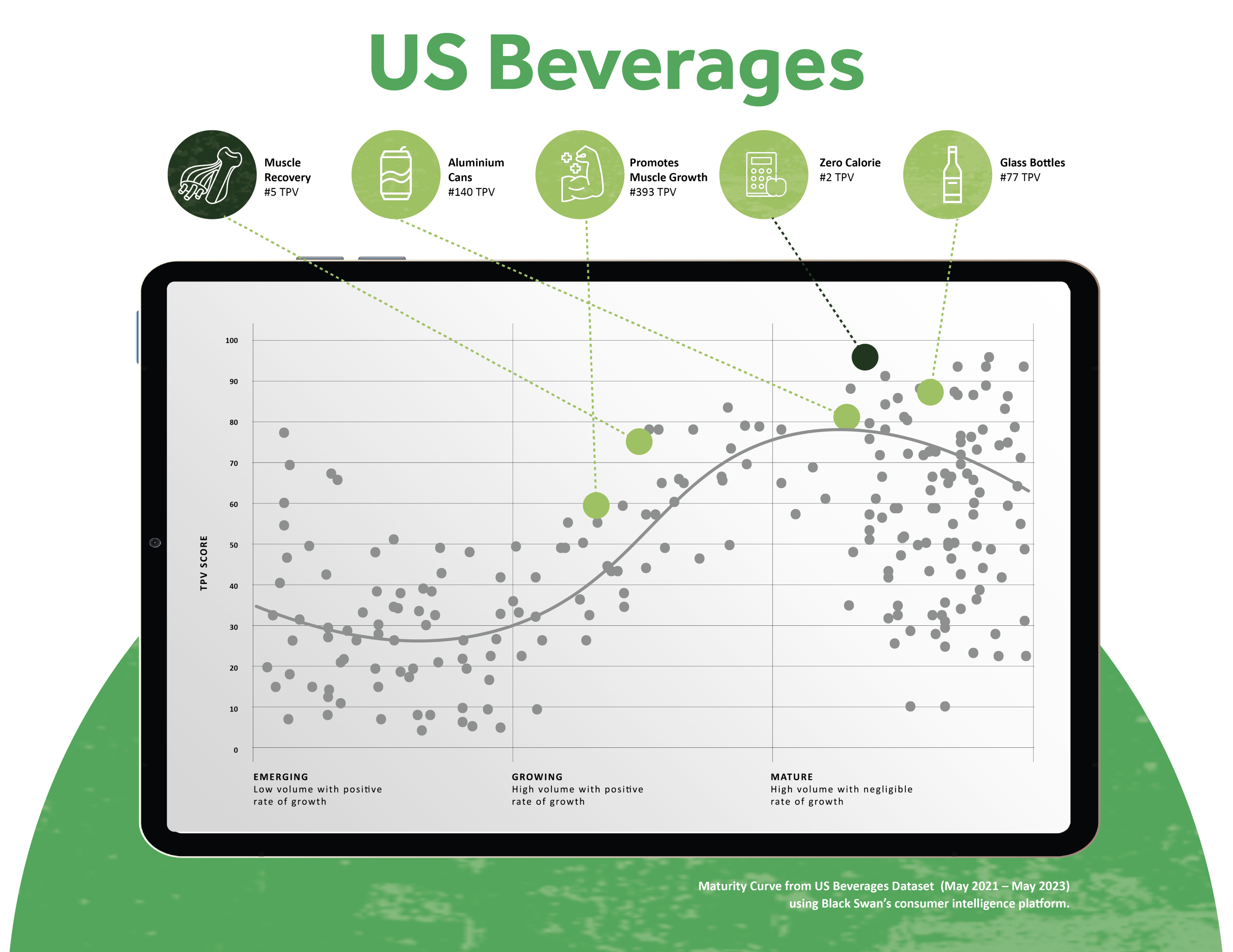 But that's not to say that sustainability isn't important.
As depicted in the visual, sustainable packaging, whether that's Aluminum Cans (TPV #140) or Glass Bottles (TPV #77), is a big topic of conversation for consumers in this space.
But these trends are 'mature', which means the conversation growth rate has plateaued.
So, how do brands ensure they're creating products that are new and exciting, whilst still meeting consumers' sustainability expectations? This is where our association metrics come back into play.
Imagine you're a sports drink brand...

Let's say you're a sports drink brand looking to play in the pre and post gym workout occasion. Muscle Recovery (TPV #5) and Promotes Muscle Growth (TPV #93) are fast growing trends.
Our association metrics show that consumers correlate muscle recovery drinks with proteins, amino acids and various vitamins and minerals.
These ingredients are the 'reasons to believe' for consumers - they provide the reassurance that this product actually works.
But most of these ingredients are derived from animal by-products like whey or keratin. Consumers are increasingly questioning the contents of the products they consume and their environmental impact.
Which is why further down our list of associations we see Plant Protein, Vegan Protein Smoothies and Whole Grain featuring. What's more, when we deep-dive on some of the animal-based proteins, we see they have negative associations with irritable bowel syndrome.
Could a new muscle recovery drink containing only plant-based proteins and amino acids help you recover and repair faster without the negative side-effects of bloating?
If so, it's a product that's also better for the environment, being plant-based and responsibly sourced.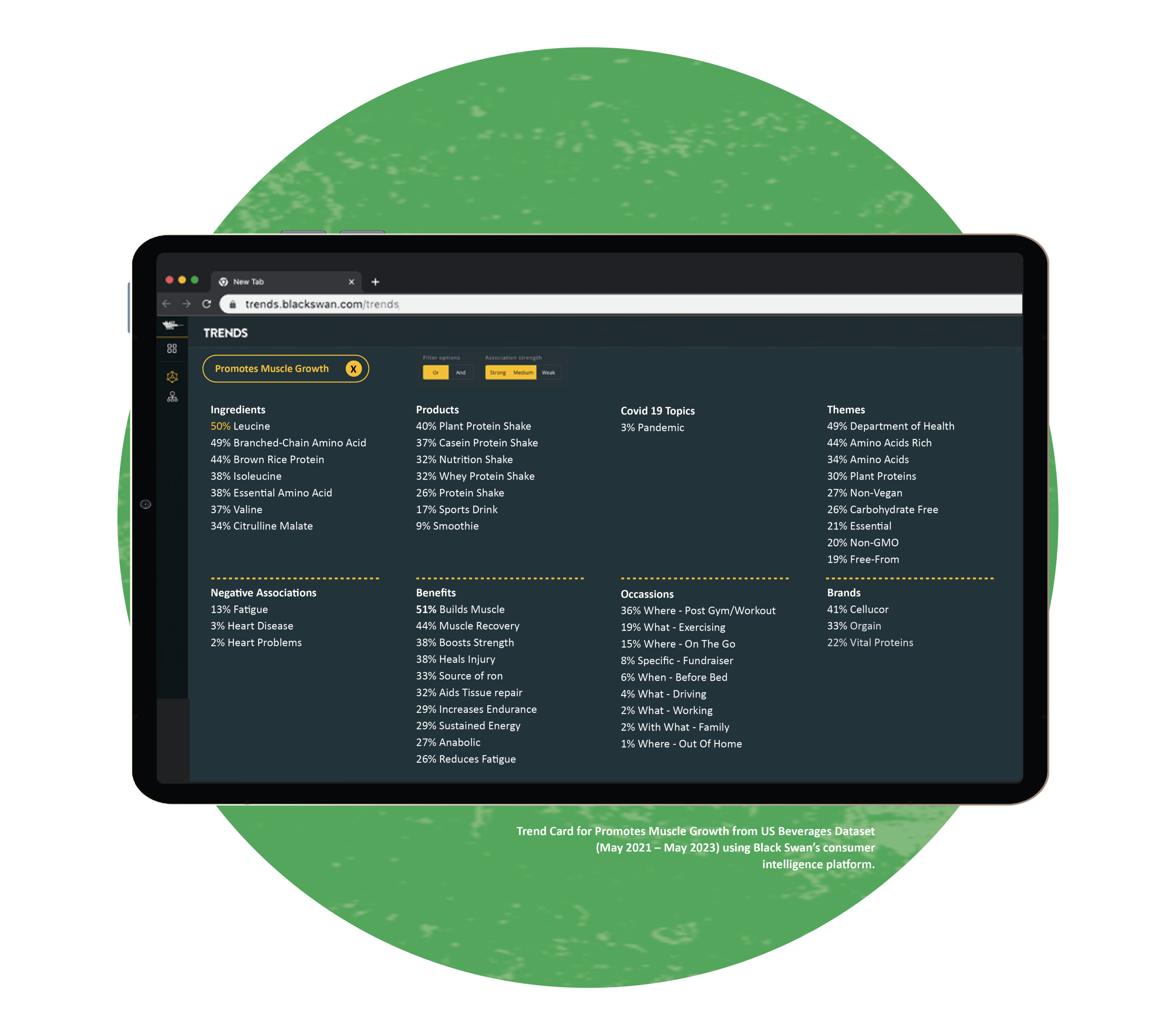 Here we've shown how you can build a product that addresses the consumer's primary needs. All the while, incorporating sustainable ingredients and packaging into the product concept to boost relevance and appeal.
I call that a win:win:win... the data indicates that consumers would agree!
* * *
Sustainable innovation is hard to get right, but that can be said for anything that is worth doing. Don't let the nebulousness scare you away.
With the right partners and data in place, brands can create products that are good for the planet, good for their consumers, and good for their bottom line.
For more insights into how the Sustainability landscape is shifting in your product category, check out our most recent Sustainability Report.

Download our NEW Report: The Sustainability Conversation 2024



Download 'The Sustainability Conversation 2024' to discover the new and emerging trends which are shaping the future of CPG.
In this report we cover the Food, Beverages and Personal Care categories:
Is seaweed the answer to the plastic packaging problem?
Is beanless coffee the next plant-based milk?
Are upcycled 'hero' ingredients the future of skincare?