Skin. It's our largest organ and plays a vital role in protecting us from outside infection and disease. It's no surprise that COVID-19 has contributed to an uptick in conversation around skincare (+141% over the past 4 weeks). It's a multi-faceted conversation that points to a number of direct (hygienic) and indirect (Zoom vanity) implications. Of course, we would be remiss in not pointing out the more direct implications in skincare around basic hygiene – our hands live under the proverbial microscope now and propel discussion around hand-specific products – hand soaps (+1,225% Year on Year), hand gels (+6,433% YoY), hand wipes (+2,089% YoY), and nail brushes (+1,112% YoY). Alcohol (+9,237% YoY), an ingredient once vilified for its harshness, is experiencing somewhat of a renaissance. However, alcohol along with other antibacterial (+713% YoY) products leave hands dry and products that soothe dry hands (+235% YoY) such as hand creams (+112% YoY) and hand lotions (+209% YoY) start to round out more of a hand-specific skincare routine.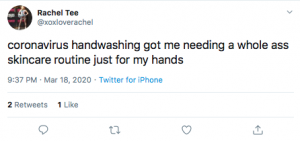 However, the skincare conversation extends beyond the hygiene of our hands… A once aspirational skincare routine (+8,400% YoY) can become a reality…at least for now. With more of a time surplus, consumers are diving into the 10-step skincare routines they haven't had time for in the past. While long-term implications remain to be seen, it's entirely possible that at least a few new steps in the routine garner more habitual adoption in the future.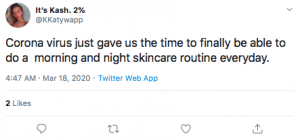 While skincare and self-care have long sat aside one another, the holistic dynamic between the two has become more of a feedback loop during this shaky time. Stress has long been the enemy of a glowing, clear complexion; however, skincare and the routine are now in their own rights a means of relaxation (+14% YoY). Products that smell good (+30% YoY) and face masks (+506% YoY) are more strongly associated linked with dual skincare and mental health benefits. And yes, when we say "face masks" we can assure you that our data filtering processes are contextualising this data to ensure it relates to one's skincare routine. In the same vein, we see experimentation as consumers look for DIY solutions. Homemade face masks (+3,550% YoY) are of particular interest and utilize many grocery items they might have on hand such as coffee (+50% YoY), egg (+33% YoY), lemon (+19% YoY), and apple cider vinegar (+25% YoY). Again, it remains to be seen if this is a longer-term behaviour but could inherently fuel trends around natural (+56% YoY) products and ingredients.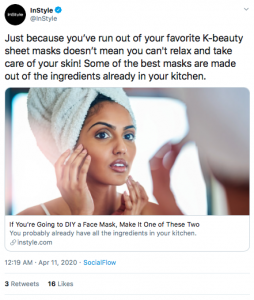 For many of us, COVID-19 has forced us to see ourselves in a new light – blue light to be exact. Home isolation and perhaps spending less time outdoors has left many feeling pale on those Zoom meetings. Self-tanner (+14% YoY) experiences heightened attraction as we try to figure out our digital "glow up".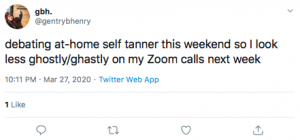 Skincare has always been an incredibly complex category with an intricate weave of emotional and functional drivers. Even within the context of COVID-19, this category will continue to evolve.
About the data: The insights are derived from our most recent COVID-19 Beacon Reports which are designed to understand category-specific shifts in consumer attitude using millions of online conversations sourced from Twitter, Blogs, Forums, Review Sites and News publications up to and including 29th March 2020.