The Cost-of-Living Crisis is here, and everyone's talking about it, taking to online forums and sites to voice their frustrations. Since the beginning of the year, we've seen a 72% increase in online dialogue around economic concerns across all CPG product categories. But what does this flurry of conversation actually mean for brands? Are people in your category simply talking – or acting? At Black Swan Data, we're diving into individual categories to see how this crisis is impacting consumer behaviour, and we started with the category most well-known for being recession-proof. Cosmetics is a historically insulated sector due to the so-called "Lipstick Effect", a well-known phenomenon whereby beauty shoppers actually buy more product during a recession. So, does this crisis follow the pattern? Let's find out.
What's Going On In Cosmetics?
Cosmetics has seen a significant increase in economic conversation during this crisis – rising 38% since the beginning of the year. Inflation has triggered wide-spread concern, leading millions of consumers to vocalise their changing preferences and values on social media and online. We've used our consumer intelligence software, TRENDSCOPE, to ingest, analyse, and connect over 11 million conversation topics in real time to help brands better understand the impact of this crisis on cosmetics buyers. An analysis of the amount of price and value conversation within our datasets reveals that higher-level emotional drivers, such as Conscious Beauty, are more likely to be at the centre of economic conversation.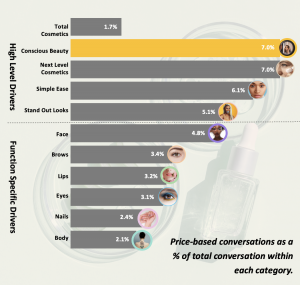 No surprise there, right? Common sense suggests that principled stances like clean and sustainable beauty are more likely to be impacted by price squeezes, as consumers focus their budget on efficacy and function. But conversation volume can be deceiving. It's only by diving into the nuance of these conversations that we can discover how consumers perceive price and value during this crisis, and how brands can respond.
Value vs Expense: What Can We Learn From The Nuances?
A deeper dive into the data reveals that consumers are more likely to talk about higher-level drivers like conscious beauty in terms of value as opposed to expense. Value conversations focus on the benefit provided by a product, with consumers justifying the cost due to the emotional or functional benefit gained. Expense conversations, on the other hand, focus on cost and price scrutiny. As demonstrated by the chart below, conversations around Conscious Beauty actually skew towards value, while function-specific drivers (such as eyes, brows, lips) see a higher percentage of expense conversation.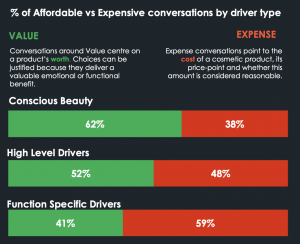 It's refreshing that today's discerning consumers will still prioritise sustainability (as long as they believe it) despite their economic concerns. Is the lipstick effect about to be replaced by the sustainability effect? Want to learn more about the impact of the Cost-of-Living Crisis on Cosmetics? The analysis continues in our
latest report
including the 34 top trends you need to know about within the Conscious Beauty growth driver.