Break the COVID research paralysis and get your 2021+ innovation pipeline back on track.
Covid-19: A perfect storm for Insight and Innovation teams
We Brits tend to be rather good at weather metaphors. In the early days of Covid-19, we likened the confusion, uncertainty and sense of darkness that many of us were feeling to being caught in a storm. During this phase, we saw our role at Black Swan Data as using our analysis to help our clients – insights, innovation and marketing professionals -
navigate through the choppy waters
and ride out the maelstrom. Now, as lockdown continues to ease, the intensity of the storm may be over, but we certainly haven't emerged blinking into sunlit uplands. Covid-19 is like a dense black cloud, casting a shadow over everything that we do, affecting how consumers are thinking, feeling and acting, and changing how we live, work, shop and relax. Our clients tell us they feel like they are flying blind through the Covid cloud, trying to understand the unprecedented shifts in consumers' needs and preferences, so they can provide products and services that will resonate and feel relevant. In the short term, marketing and innovation teams are looking for new insights, ideas and recommendations to modify products, formats, pack sizes, price points and communications, that will help maintain or win market share. Typically there is no time or budget to accomplish these developments, so businesses are prone to knee-jerk reactions based on gut feeling and intuition, rather than consumer intelligence. Needless to say, this increases the risk of getting it wrong. In the longer term, brands are seeking to understand "Which of my longstanding innovation platforms are still relevant for 2021 and beyond?" and "When is the right time to launch?" Consequently, many strategic projects are on hold, due to uncertainty about what is going to be relevant to consumers in the future. As such, marketers and innovators are turning to consumer insights teams for answers. Insight professionals feel like they are caught in a perfect storm, leaving them in a state of paralysis. On one hand, their role is business critical: using the voice of the consumer to ensure brands stay relevant and guide what the business should prioritise. On the other hand, being aware of the pitfalls of researching consumers during Covid, they feel disempowered and disabled by the limitations of their traditional question-based research toolkit. This is perfectly summed up by Michelle Gansle, Director of Consumer Insights at Mars, who in a
podcast with Voxpopme, 
said 
"Right now most people are saying 'let's hold on doing research'. Most companies don't do research around the holiday season because it's not normal consumer and shopper behaviour. People are less price sensitive, people tend towards certain categories and away from other categories. And Covid-19 is like the holiday season x1000."
The dark cloud of Covid: risk or opportunity?
Times of uncertainty such as these increase the risks for brands; there are risks in both action and inaction – do something, get it even slightly wrong, and you not only waste resources but you potentially damage the brand - or do nothing, wait to see what happens, and find yourself on the back foot as competitors forge ahead and steal share. But, as always, with risk comes opportunity. The brands that can read the market, understand what's relevant to consumers and act effectively now, in both their short term tactics, and longer term strategic plans, will be those that thrive. A recent
article by McKinsey
says:
"All companies must now confront the prospect of navigating the worst economic downturn since the Great Depression. The transition from responding to the pandemic to recovering and navigating the path forward means that executives will have to manage several priorities simultaneously: tracking changing consumer preferences, identifying micropockets of growth to prioritise in future plans, adjusting commercial strategies, and becoming more agile to pursue opportunities. As CPG companies embark on the road to recovery, a consumer-centric, analytics-driven, and comprehensive approach that increases top-line revenues profitably—what we refer to as predictive growth—has never been more critical. Such an approach must start with understanding the contours of the next normal."
Consumer insights are key to understanding the 'contours of the next normal'. There is so much at stake, but traditional question-based methods of research can't distinguish between what is real, lasting consumer sentiment, and what is Covid-generated noise, that is important to consumers in the moment, but will fade away fast as we adjust to the way we live now. A senior insights leader at one of our CPG clients recently said:
"The problem for us now is not just that more than 70% of the requests we are getting from the business relate to Covid-19, it's that the pandemic is like a dark cloud that hangs over every decision we make. We can't separate the insight from the noise so it's hard to advise our stakeholders with our normal level of confidence."
Covid Classifier: a ray of sunshine
At Black Swan Data, what we have always done is help our clients predict consumer behaviour, by finding the growth signals amongst the noise. Social Prediction, our term for this, works precisely because it doesn't rely on asking consumers questions, but samples from a vast quantity of spontaneously generated, in-context consumer conversations from online, then applies machine learning techniques to analyse and make sense of the data. We've enhanced our trend prediction algorithm with a Covid Classifier that takes account of the current new source of noise, filtering out the spikes in conversation that are short-term Covid-fuelled fads, to reveal the trends that will sustain over the longer term.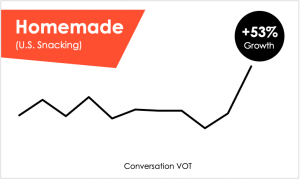 Picking an obvious example, the Homemade trend in Snacking surged in conversation by 53% during lockdown; banana bread dominated Instagram and you couldn't get yeast for love nor money. But will this trend sustain, or will it die out, as swiftly and permanently as a sadly neglected sourdough starter?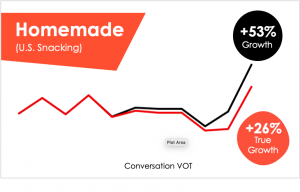 Taking account of the Covid-driven spike in conversations to understand Homemade's true, underlying growth we can see that there is still a sizeable increase in Homemade themed conversations – this is a trend that our algorithm predicts will continue to grow.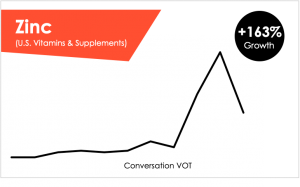 In contrast, Zinc, which had rapid triple digit growth in supplements due to its perceived health and Covid-19 protective properties, is just a fad. When we filter out the Covid-19 noise, we can see that there is no true growth at all; this is not the time to invest in zinc-enhanced products as part of a longer term strategy.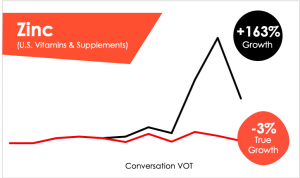 Our analysis of Covid conversations goes beyond keywords, and obvious pandemic expressions such as 'quarantine' and 'stay at home'. In fact, 82% of the conversations we found in the wider product category conversations don't contain any obvious Covid terms. Therefore, we've developed a Topic Modelling data science technique which identifies the hidden semantic structures in text that indicate they are related to Covid-19. For the full technical details on how we do this, read our
blog here
.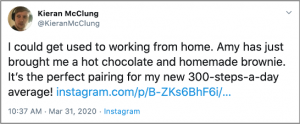 Our Covid Classifier identifies Covid related posts and conversations based on topic and context, not just obvious key pandemic terms.
The confidence to act
Clients can access this analysis through our
Trendscope
software and
Horizon
consulting solutions. Our Covid Classifier and prediction algorithm is applied to every category related product trend being talked about by consumers, giving users instant analysis and reporting about which trends to prioritise, and why. We use this capability to fuel faster, more objective, consumer-centric category landscape studies, innovation programmes and brand positioning strategies. This gives you the confidence that the noise of Covid-19 won't lead to flawed decision making, and empowers you to act now and fuel your 2021+ strategy planning with reliable data and evidence. Every cloud has silver lining. Could Black Swan be yours? By
Hugo Amos
, Chief Strategy Officer and Co-Founder
To request the true Covid-filtered growth of a trend or topic that's important in your category, or to book a short demonstration of our Horizon and Trendscope solutions, please contact us here.
Or read here to find out more about how our Covid classifier and trend prediction methodology works.