By
Camilla Carson
, VP of Sales
In my role, I'm fortunate to work with Black Swan's customers to embed new, AI-driven consumer intelligence capabilities into their operations. It's genuinely rewarding to witness first-hand the impact technology can have in terms of market orientation, speed of decision making and cost savings.
However, I'm still somewhat frustrated by the pace of adoption and appetite for change in market research. So, when I was asked to speak at IIEXEU 2023, I wanted to bring together industry pioneers who could share learnings of how they've successfully applied AI and Big Data to consumer insight programs.
My first point of call was Nithya Seshachalam. Nithya and I have been on a journey to embed third-party conversational data and predictive analytics into Coty's Insight and Innovation programs over the last 2 years. I knew she had a valuable story to share.

My second panelist, Oya Unlu, was recommended to me as an expert in combining multiple data sources. She leverages IKEA's extensive first-party sources with external data and partners to drive business change.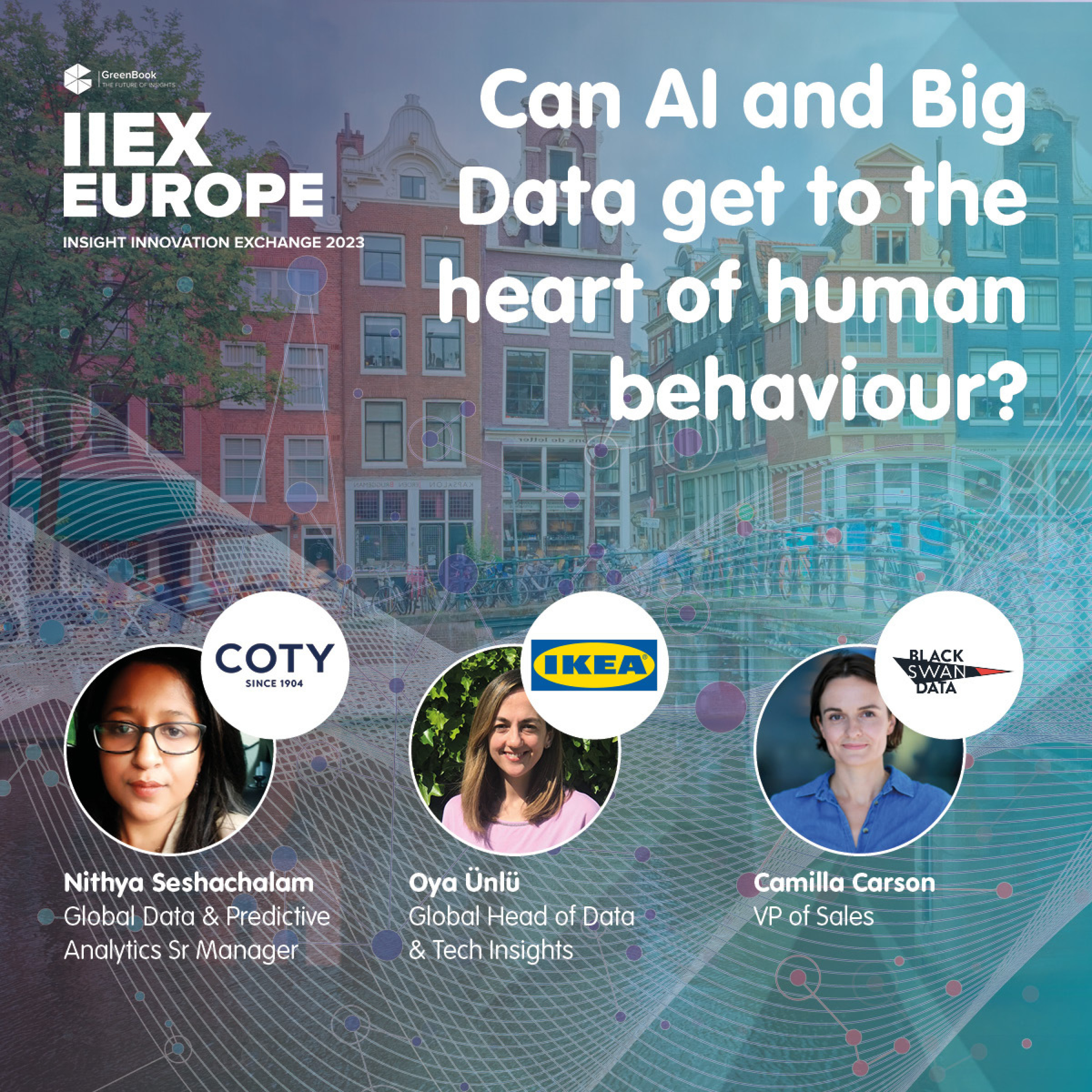 With my panel of experts assembled, we tackled the THREE most common barriers to adoption for CPGs who are the start of their AI and Big Data journey.



Barrier #1

What do you actually mean by AI?

AI is an often used term that's rarely clarified and understood. So, I asked our experts to give me an example of how AI is embedded in their organizations and the tangible outcomes it delivers.
For Nithya, AI is a means of tapping into rich conversational data that surrounds the personal care and beauty categories online.
I loved her simple explanation: "the way I understand AI is that, given enough data points, we can teach a machine to learn, understand and complete complex tasks."
She gave the analogy that it's like humans learning a language – "the more we can listen, read and experience a language, the better we get at understanding it."
In Coty's case, they use software to translate millions of online conversations into actionable consumer trend intelligence.
It helps them understand shifts in attitudes, motivations and consumer needs so that their marketing and innovation teams can accurately anticipate what consumers will want next. And in turn, create better products.
Oya's example of AI in action was IKEA's application of machines to automate and enhance their competitive intelligence. Their technology continuously scans the market for new products, features and pricing across thousands of product lines. It enables IKEA to monitor their price competitiveness versus the market in real-time.
What interested me was that, in both cases, the AI isn't doing something that we mere mortal humans couldn't do ourselves. In theory you could employ an army of analysts to scan and analyze the internet for this information.
But AI makes this capability cost-efficient and consistent, delivering a robust source of consumer intelligence that makes everyday decision-making better.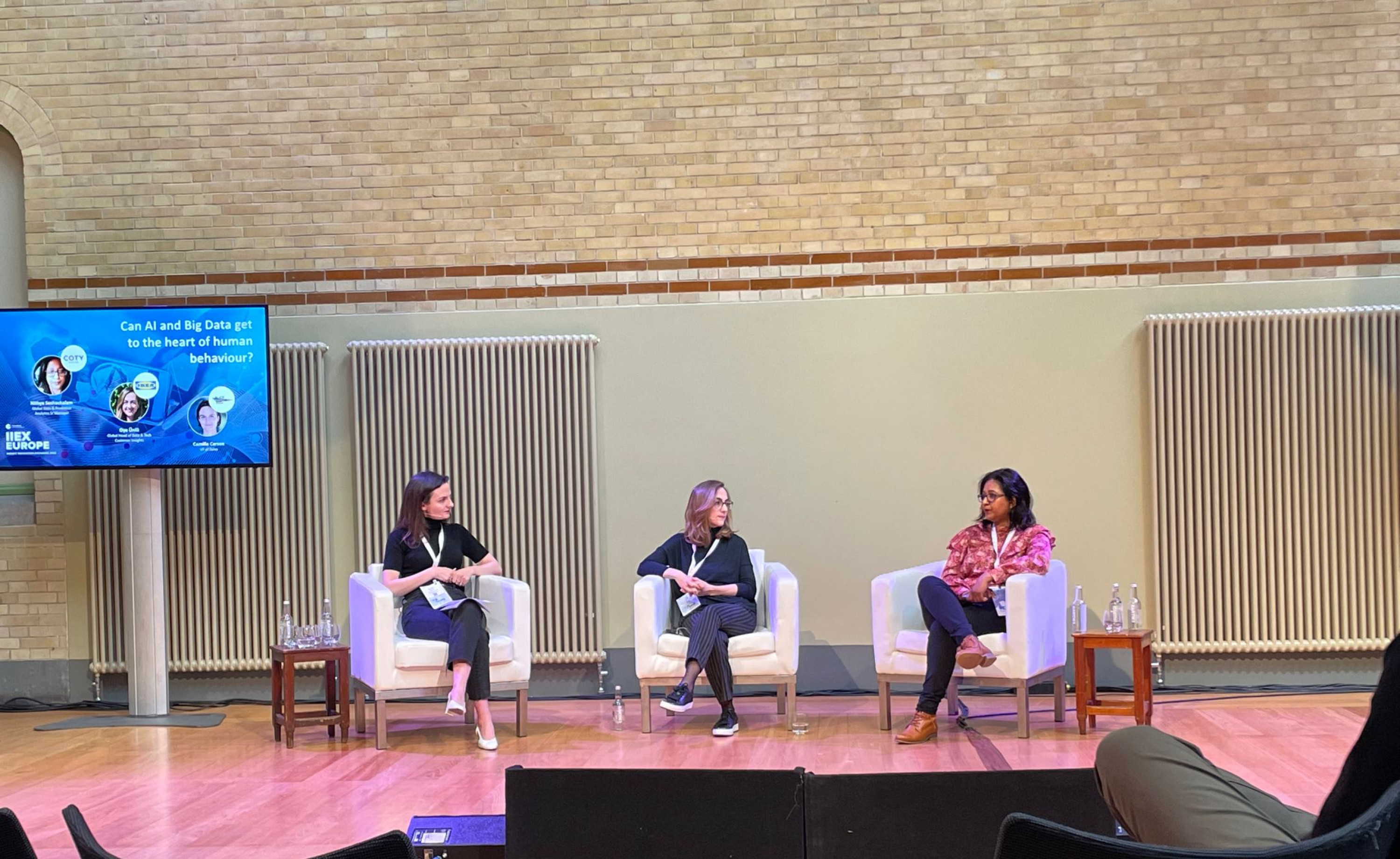 Barrier #2

How do I convince my company to invest?

Despite advances in technology and growing conversation around AI, it still feels harder that it should be to convince the C-Suite to sanction a digital transformation project or AI-driven solution.
And I think this is particularly acute in market research, where leaders are hesitant to make changes to the familiar methods, agencies and practices that they've trusted for decades.
So, I wanted to ask the experts how they overcame the challenge of introducing AI and Big Data into their organisations?
Oya outlined three principles she follows to ensure a new technology or tool will be successful at IKEA:


1. Data quality

"Garbage in, garbage out. If the data is not reliable, it's difficult to convince users to invest the time and effort needed to change their behaviour and adopt the new tech".

2. Get the right people

"You need operators with the right skills and experience, people and teams who can combine technical expertise and commercial acumen". However, she flagged that finding and retaining these individuals is increasingly difficult.

3. Focus on the value, not the data

"We have a tendency to want to build a perfect data model, but it's the outcome and roll-out that's more important".


Oya starts any new initiative with a focus on building a MVP (Minimum Viable Product). The objective is to test and learn the value of the business intelligence generated, rather than trying to build the perfect solution from the get-go.
For Nithya, her advice on stakeholder buy-in centered on managing expectations. She explained:
"It's been a journey of testing, learning and iterating, which requires time and patience. But now, Coty's Innovation teams love the clarity and confidence AI has delivered."
This statement truly resonated with me. It's a challenge I often experience with customers.
You can't simply push a button and turn-on an AI-driven capability! Typically, the AI and technology is the easy part. Success depends on an organization's change management and ability to adapt their processes to take advantage of the tech.



Barrier #3

Can AI actually get to the heart of consumer behavior?

And so to the crux of our panel conversation... Dispelling the myth that AI and Big Data can't get to the heart of understanding what's driving consumer behavior.
For context, market research is often described as understanding 'the what' and 'the why' of consumer behavior. A common criticism aimed at Big Data is that it doesn't speak to 'the why?'. It was brilliant to hear that both panelists disagreed with this statement.
Nithya talked first about the challenges in only relying on sales data – which is often the first port of call for CPGs. The problem with sales data is that it can be incomplete.

As Nithya outlined, "price, promotion and competitors impact purchase activity. And they do not sufficiently unmask what's really driving changes in underlying motivations and needs beyond availability and affordability".
And this is where she believed conversational data could help. It provides teams with a rich and quantitative view on emerging behavior and attitudes. If sales data tells you what people are purchasing, social data tells you what people are thinking (and likely to buy in the future).
She used the example of coffee consumption. On social media, a friend recently posted about dropping from 6 to 2 cups a day to improve sleep quality. As Nithya pointed out, "you have the what and the why right there!".
Coty uses conversational data in this way to surface emerging growth and innovation opportunities. Nithya highlighted a recent example that's really helped her team to get a better understanding of the impact of the Cost-of-Living Crisis.
By analyzing their category segmentation through the lens of price and value conversations, they were able to quickly understand which areas and products over-indexed in price sensitive conversations.
This revealed the spaces in which consumers were looking to reduce consumption or trade down. While also pointing to the products they perceived to be of high value, and willing to pay more for.
This helped them make fast, consumer-driven decisions about their portfolio and positioning strategy.
Oya also agreed that social data can help get to 'the why' of consumer behavior. She talked about IKEA's layered approach to using AI and Big Data.
"The what, comes from our foundation layer of consumer intelligence. Here we use AI and automated digital insight products for ongoing analysis and reporting of our brand equity, customer experience, competitors, etc."
'The why' will typically take the form of an internal strategic business question. Her team's response often combines a deep-dive of their first-party data combined with external data from research companies.
She added, "regardless of whether it's AI-driven insights or not, what remains critical to answer complex questions is the ability to tell stories and translate data into impact and action."
I couldn't agree more. Time and time again we see that, when clients combine smart data with smart storytelling, their path to adoption gathers momentum.
In summary

There are three key points I took away from Nithiya and Oya and our conversation about adopting AI-driven consumer intelligence:


1. Demystify the terminology and speak in plain terms about what it is, and the value it generates.
2. Your organisation's change management program is critical to successful adoption of new tools and technology
3. Great quality data still needs storytelling to make it actionable and drive impact - you can't outsource everything to a machine. (Yet!)


I hope you found this summary of our conversation useful.
If you're struggling to make the business case for a new market research technology, or you're interested in how Black Swan Data can help transform your insight and innovation programs, then I'd be delighted to help.
Please get in contact HERE.
Camilla Carson
VP of Sales