By Adam Griswold, Account Director, Black Swan Data



I'm going to say something we've all heard hundreds of times already this year... Times are tough right now.
Businesses need to make tough decisions to ensure their own survival in this challenging marketplace.
This environment often causes the C-Suite to turn inwards. To focus on what they can directly control.
Do we have the right organizational structure and headcount? Do we have risk in our supply chain? Do we have enough free cash flow?
These questions are sensible. And necessary!
While it's true that CPG companies have choppy waters to navigate, consumers are also having to react to an unpredictable and shifting landscape.
War in Europe, a cost-of-living crisis and inflation on the back of a pandemic. What next?
Consumers' needs and behaviors are evolving and will continue to change as the landscape shifts around them.
So alongside looking inwards, besides introspection, organizations must also face outwards. They must be market oriented and keep a very close eye on what consumers think, need and do.
One of the most elegant solutions – at least, in my opinion – for consumer-centricity and market orientation is Segmentation.
But how do CPGs execute this in such a challenging marketplace?



The pros of Market Segmentations

'Segmentation' can mean many things to many people. But when I refer to it here, I'm describing the division of a target market into smaller groups based on shared characteristics – such as interests, needs, location, occasions, demographics, personality traits or a combination of the above.
This approach helps us to identify the specific 'jobs to be done' within a category.
Market Segmentations can illuminate innovation opportunities. Debunk myths. Demonstrate how consumers are really behaving. And provide a roadmap for brands to grow.
They can unify an organization around a common understanding of the landscape in which they operate and – at their most powerful – help organizations consider consumers, not themselves, first.
Those are the pros. And they are significant. But there are cons.

The cons

To put simply, reaching the outcomes above is not easy. Well considered, properly researched and interrogated, effectively socialized and embedded Segmentations are challenging undertakings.
They require cross-functional input, senior buy-in, considerable time for delivery and – more often than not – a hefty investment.
And therein lies the challenge. With so many internal and external difficulties facing businesses right now, the appetite to take on this sort of exercise can wane.
Particularly in an economic environment like this in which organizations are trying to do more with less. So I understand why some organizations stop investing or re-investing in Segmentations.
Because re-investment is crucial. The defining 'con' or problem with (even perfectly executed and embedded) Segmentations is their shelf-life.
Eventually, consumers and categories shift. Things change! And research that was relevant 18 months ago is no longer relevant.
So what to do? Spend big again on refreshing the Segmentation? Commission new research?
It's a common problem in CPG Innovation. And there's a solution.



The problem with moment-in-time research

If Segmentations are a pathway to market orientation, to being truly consumer-centric, then they must evolve as consumers and categories evolve.
When organizations commission a study, its value fades as time passes. Because that research is based on data or insights gathered at a specific moment in time. It's static.
Even after spending years embedding the research across your organization and using it to inform strategy across your portfolio, it becomes obsolete.
Most companies cannot afford to spend $100,000s' on a new Segmentation – especially now, when budgets are being slashed.
The good news is, there's no need to ask your CFO for another huge investment.
At Black Swan, we can help you extend the life of your existing Segmentation by connecting it to our dynamic trend framework.
We take static Segmentations and use the conversations millions of consumers are having online right now to make them relevant and actionable once more.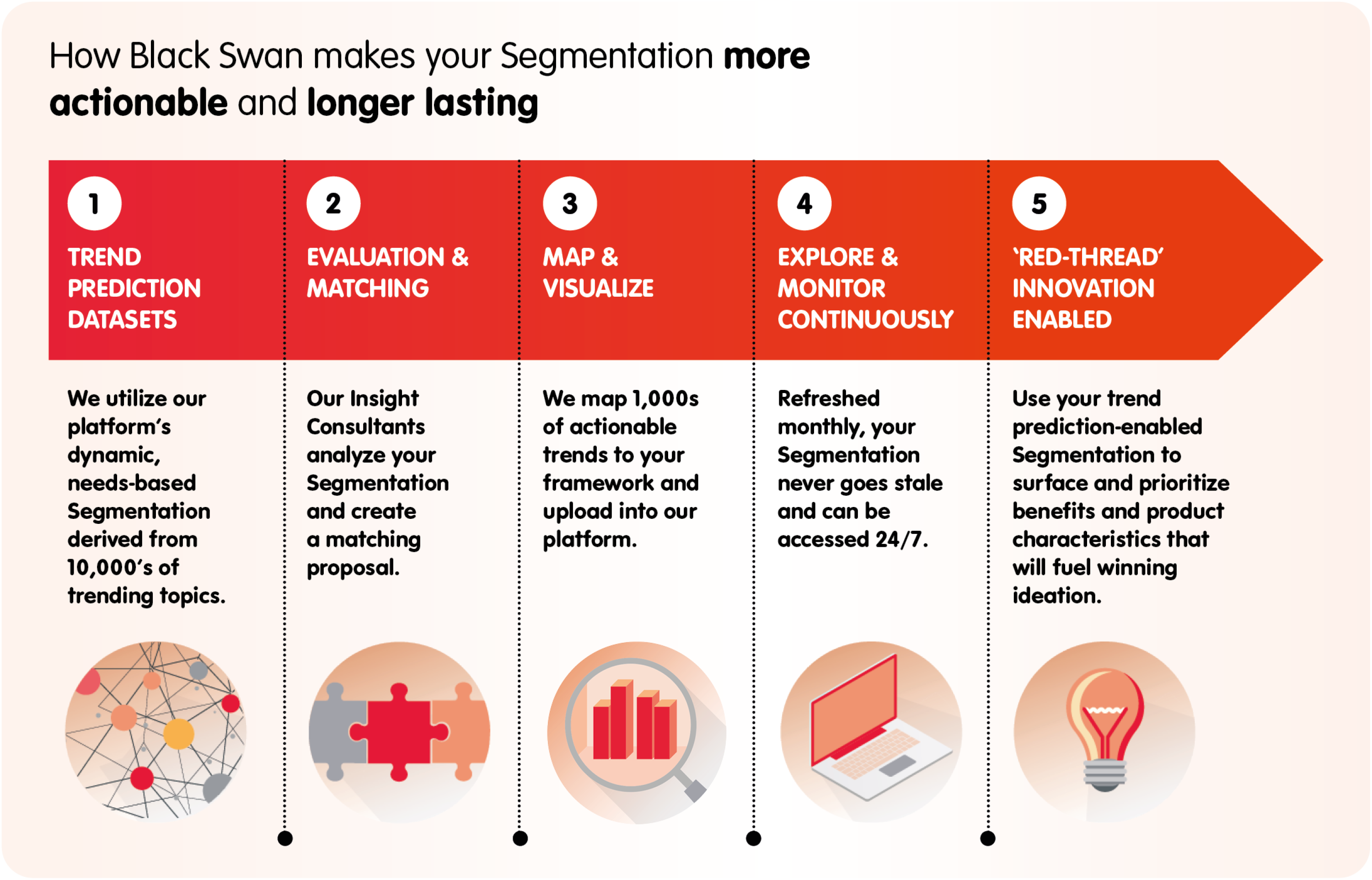 And a Segmentation being actionable again is the key win here.
There are three questions you have to ask yourself when deciding if your current framework is past its sell-by-date:


1. Are we still prioritizing the right opportunities?
2. Are we executing those opportunities in the most consumer-relevant and effective ways?
3. Do my stakeholders still believe the Segmentation is relevant and representative of the category today?
We can help you answer all of these questions, and you can book a 30 min consultation with our team to audit your current Segmentation.


* * *


You can discover more about how our partners like cosnova, PepsiCo and P&G leverage Black Swan to extend the life of their Segmentations in our latest whitepaper...

CPG Insights & Innovation: How to do more with less in 2023.





Adam has worked at Black Swan for 2 years, and helps our pioneering clients, including Heineken and S.C. Johnson introduce predictive, social data into their Innovation processes.