By Phil Norminton, VP of Insights & Partnerships, Black Swan Data
Innovate less or innovate more conservatively?

Growth is more challenging to come by than ever before. The economic outlook remains on a knife-edge and consumers' disposable incomes have been squeezed to breaking point.
As a result, every $ spent on research, new product development and marketing is hyper-scrutinized and must deliver a clear ROI - and rightly so I might add!
In a turbulent market, where launching a new product is increasingly risky, some companies have concluded that they will innovate less or innovate more conservatively.
Be warned, however... This McKinsey report highlights the dangers and long-term detrimental impact of taking this route. My recommendation: don't innovate less or innovate more conservatively - innovate smarter.
What do I mean by this? The economic backdrop has amplified the inherent problem with the CPG Innovation process today. Teams are suffering from a lack of consistent and objective data to connect front-end stages of the Innovation process.
They are forced to make a big leap from identifying the consumer problem (i.e. a job-to-be-done or need-space) to solving it through a new product concept.
They are missing data and efficient research methods to bridge the gap and connect the dots.
The result? Poor performing ideas that go through rounds and rounds of iterative concept testing, wasting time and money.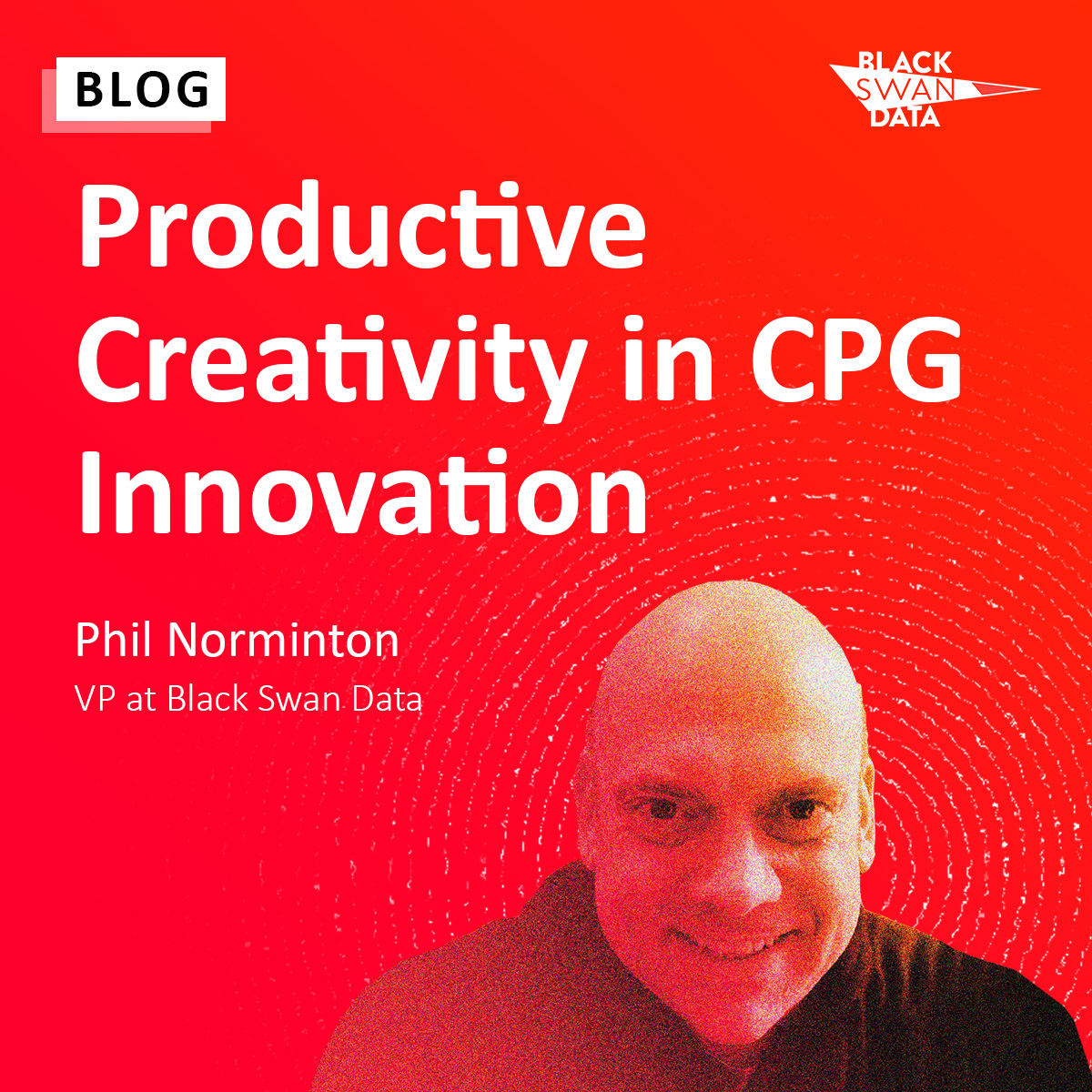 Optimize ideas before you test them

This lack of connection between the Discovery and Validation phases means we often rely on concept testing as our first objective source of truth.
Innovation teams use testing as an iterative tool to create rather than to validate winning ideas. Or, in some cases, they find ways to game the system or rationalize the test results to push forward with their preferred 'doable' idea.
The task is to connect a consumer problem or 'job-to-be-done' with both relevant and differentiated product characteristics, benefit claims and reasons-to-believe. But without evidence, this part of the process remains more art than science and feels personally difficult and risky.
In this context, simply forcing more data and insight into the creative process is not going to shift how we deliver better outcomes.
We need to re-think the process with data, content and new methods that fuels both objectivity and creativity - productive creativity if you like.



Powering objective, productive creativity

You'll no doubt be shocked to hear that's exactly what we've built and continue to evolve at Black Swan.
Our technology blends social data with consumer insights expertise to allow product innovators to connect a consumer need, job or demand-space with the most relevant ingredients, benefit claims, product types and contextual characteristics.
This allows you to prioritize which elements should be included in your idea in a more objective fashion.
While, at the same time, surfacing relevant consumer content – such as consumers' language, imagery, and cultural context - to power creativity.
This injection of objectivity and data-led creativity prior to testing pushes the iterative process further up the Innovation funnel.
It leads to a more considered and efficient process with less iterative idea screening and concept testing.
Our approach
We don't ask questions

Our platform ingests two years of rolling unstructured social data. It captures consumers' conversations relevant to usage and attitudes in your macro category – whether it be beverages or skincare. The data is then structured so that the elements of a new product idea can be easily assembled.


Predictive and objective

Successful Innovation is a balance of relevance, uniqueness, and solution appeal. So, we developed our platform with that in mind. It classifies trends into different Innovation 'lenses', including products, benefits, occasions, themes, ingredients and brands.
Forecast growth and maturity-adoption metrics are applied to determine every trend's 'innovation' potential – indicating if you should act soon, or act now. It also indexes the strength of connectivity between trends.
This association metric allows us to surface both the mature and well-established with the emerging and fast-growing ingredients, product types and occasions in your opportunity space – enabling you to objectively blend relevance, appeal and uniqueness.
Fuel for ideation

Given a target needs-space, our tech can generate more relevant claims and product characteristics than you or an agency partner could ever think of. It's an incredible springboard for ideation. You can also surface the consumer verbatim, alongside any associated images they've posted behind the trends and trend connections. This can take your innovation and comm's ideation process to the next level.


Spot the next competitive threat

Our data and platform allow you to surface emerging brands connected with high potential or priority consumer needs. You can 'deconstruct' those brands by profiling the granular attributes consumers associate with them.


Do more with less

With the above capabilities, supported by training and consulting services – we estimate that clients can reduce front-end-Innovation research costs by around 30%, alongside developing ideas that resonate better with consumers.
Is this crunch time?
To square the research budget tension I opened-out with, maybe now is the time to run a ROI calculator over your annual NPD 'rinse and repeat' process to understand how you can make your innovation smarter and more efficient.
One for another blog, but consider doing this alongside identifying where existing products have unarticulated benefits that offer an ROI-attractive renovation option.
If you'd like advice and frameworks on how to perform this ROI analysis or explore how we can help with smarter innovation and renovation, please get in contact as we'd be delighted to help.

GET IN TOUCH


Phil Norminton is Black Swan Data's VP of Insights and Partnerships. Prior to working at Black Swan, Phil developed his career working in Customer Success, Country and Commercial Strategy & Insights leadership roles for companies including Nielsen and PepsiCo.

* * *


You can discover more about how pioneering companies like cosnova, PepsiCo and P&G are leveraging Black Swan's platform to optimize product concepts before testing in our latest whitepaper...
CPG Insights & Innovation: How to do more with less in 2023