When my fellow founder Hugo Amos suggested "Black Swan" as our company name, my first reaction was "that's pretty bold mate, do you really think we can do that?". Seven years later the world finds itself in the midst of the impact from an unprecedented Black Swan event; COVID-19. Did we predict the emergence of a new virus strain at that specific moment? No, and whilst that's never going to be possible, anticipating the human reaction to an emerging pandemic is absolutely predictable and we see this as Black Swan Data's primary focus - to enable our customers to navigate this time of unprecedented change. Amidst ongoing concern for the vulnerable and our loved ones, we are laser-focused on using our Social Prediction technology, that analyses millions of public online conversations around the world, to help guide the path for our customers with objective data. Experiencing an unprecedented Black Swan moment like COVID-19 naturally leads brands to question what the immediate and longer-term future looks like and how they should respond. Unsurprisingly the digital world is not short of conjecture and opinion on this. The daily drumbeat of news, dominated by individual COVID-19 soundbites, may encourage brands to interpret and react with haste. However, in this artificial environment there is a temptation to react to what feels like a trend, identified using tools like social listening or traditional "question and answer" type research, only to discover it was a passing fad. It is crucial therefore to identify the trends and cultural drivers that will emerge, grow and sustain as COVID-19 plays out in a more sophisticated way. Surfacing these requires structured scientific analysis, using the tools and techniques of Social Prediction and crucially a sufficiently robust time-series dataset. Just a few weeks in to COVID-19 we believe it is too early to make meaningful long-term predictions and extrapolations. With extrapolation, for example, understanding underlying drivers of behaviour is crucial, and timing (will this sustain growth or taper off?) is everything, so patience is necessary. We'll get more technical, covering S curves and exponentials in future posts! Having said that, there is much we can begin to make sense of, through cultural and category intelligence, to help brands in the shorter-term. By virtue of having 'always-on' access to our data sources, Black Swan has the ability to revisit and refine our historical forecasts with precision, by category, by market, and across cultures with new COVID-19 information. The current worldwide necessity of physical isolation, for example, may have vast implications across holistic lifestyles including cooking, in-home virtual workouts and mental wellbeing. This capability enables us to refine growth drivers with updated social tensions and attitudes & behaviours as they evolve and emerge, post isolation. Black Swan's engineering and data science teams are busy ingesting hundreds of millions of COVID-19 conversations on a daily basis, enriching our extensive taxonomies and social data datasets. Our historical predictions around category growth drivers - let's call it the pre COVID-19 context - may remain valid as the new world plays out, and many will likely further accelerate. This highly structured approach will enable us to identify immediate tactical opportunities, in addition to where and when our clients should place their future focus.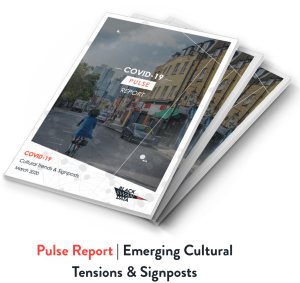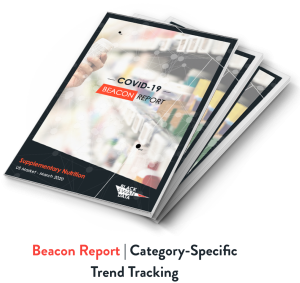 Next week we'll launch two dedicated COVID-19 bi-weekly consumer intelligence products and a webinar series, helping you navigate the immediate COVID-19 world within a framework of tracking both broad social tensions and category specific attitudes & behaviours. We'll surface and cluster these trend signals through bi-weekly "pulses" (cultural trends & signposts) and "beacons" (category tracking) to give you evidence-driven intelligence that pinpoints what is accelerating, emerging or fading away. We are confident this structured, scientific approach sets us apart with so much conjecture and uncertainty around. We would love your comments, worries, concerns and coping strategies in this world of uncertainty. Please
get in touch with us here
.