What is Centella Asiatica? 
Centella Asiatica – also known as Asiatic Pennywort, Tiger Grass or Gotu Kol – is a herbaceous, perennial plant native to the wetlands in Asia. For centuries it's been used in cooking and for medicinal purposes. Functionally though, the herb is rich in amino acids, beta carotene, fatty acids, and phytochemicals, known to improve skin elasticity and boost hydration – both of which can have a regenerative and anti-aging effect. Much like we're seeing with many other traditional plant extracts, it's growing in popularity as a skincare ingredient. In May 2019, our Skincare dataset shows just how popular Centella Asiatica is becoming. Our Trend Prediction Value (TPV) ranked Centella Asiatica 10 out of 2319* ingredients by future growth potential. With 4.8k conversations and 35% YoY growth, it's easy to see that it's one to watch within the skincare space.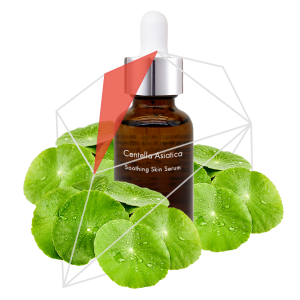 Why is the herb growing in popularity? 
Just as important as what we're seeing in our datasets, is what's behind the Centella Asiatica trend and why it is growing.
A natural option 
One big driver is that it's a natural ingredient. The natural beauty sector is at an all-time high with more and more consumers, especially Millennials, seeking out natural products that are unrefined and free of chemicals and additives. But as well as natural ingredients, they still want functional benefits from their skincare too. Centella Asiatica certainly ticks both boxes.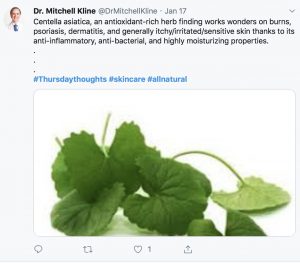 Rooted in Asian culture
Centella Asiatica is frequently used as an ingredient in Korean beauty products. This taps into the K-Beauty functional cosmetics trend that's sweeping across the Western world, as well as our adopting of ingredients from Asian culture in general. In China, Centella Asiatica has been hailed one of the "miracle elixirs of life." It's been used in Indian Ayurvedic medicine to treat a variety of ailments, including eczema, psoriasis, wounds, lupus, anxiety, depression, and more. While in Thailand and Vietnam, people make cold drinks from and it's used as an anti-aging miracle drink.

Sensitive skin friendly
As you can see, Centella Asiatica is linked with a variety of benefits. Within skincare, its big benefits are anti-ageing, anti-inflammatory, reducing redness and treating scarring. It's also known to soothe sensitive and acne prone skin, which makes it stand out from a number of other active ingredients. Sensitive skin is a very common skin type in Korea because of the high pollution levels. Korean skincare products containing Centella Asiatica are often labelled Cica, indicating that they are sensitive skin friendly. It's easy then to understand why Centella Asiatica is being hailed as a miracle ingredient within K-Beauty. And with Western brands like L'Oreal and Kiehl's taking note and adding it to their products, it's looking like a trend that's set to grow.

Riding the Korean Wave 
Centella Asiatica is a top trending ingredient within the macro Korean cultural trend Hallyu. If you want to discover what else to watch within the K-Beauty space, our
Hallyu cross-category report
brings you deep-dive insights and trend predictions. It highlights some of the key trend manifestations behind the wave of Korean culture and surfaces emerging themes, ingredients and products within Skincare, Beverages, Alcohol and Snacking. It's a must-read if you wish to exploit opportunities within this macro trend.
* The data in this blog is from Black Swan's Global Skincare dataset, updated to 31st May 2019.